Since the European crisis, which started at the end of 2011, the Chinese have been reverting their foreign reserves policy once again.
Previously China sold their U.S. treasury holdings (NYSEARCA:TLT) to a record low of 1.1 trillion USD at the end of 2011 (Chart 1). But in 2012, China drastically changed its policy. Just as before, they are again pegging the yuan to the USD (Chart 2) by selling yuan for U.S. dollars. Currently, the exchange rate of the USD/CNY peg is at 6.3. With these U.S. dollars, the Chinese have bought record amounts of U.S. treasuries.
From 2012 onwards, China bought back U.S. treasuries from 1.1 trillion USD up to 1.18 trillion USD (Chart 1). Their level of U.S. treasury holdings is currently back to the highest level historically.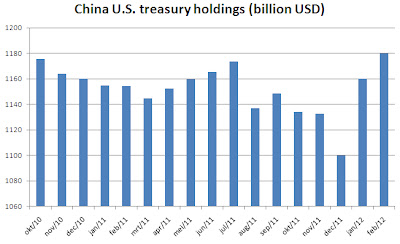 Chart 1: China U.S. treasury holdings (billion USD)
If we look at the long term chart of Chinese U.S. treasury holdings, we can see that China is still accumulating record amounts of U.S. treasuries (Chart 3), besides gold as I discussed in this article.
It's no wonder that U.S. treasuries have outperformed almost everything in the market during the first part of 2012, even gold.
To add insult to injury, some of China's sovereign wealth funds have ceased buying European debt. Gao Xiqing, president of China Investment Corp. says: "The nation's sovereign wealth fund has stopped buying European government debt on concerns about the region's financial turmoil". This action will increase the demand for U.S. treasuries as an alternative investment.
I believe this trend can continue for a while as the European crisis worsens. So it wouldn't be a bad idea to buy the iShares Barclays 20+ Yr Treasury Bond in the short term, however counterintuitive it may seem.
Disclosure: I have no positions in any stocks mentioned, and no plans to initiate any positions within the next 72 hours.