Let's see if the market gets it right this time.
Wednesday, Oracle (NYSE:ORCL) shares slumped heading into earnings; then the company blew away estimates, and the stock reversed course. Oops.
Thursday, we have Research In Motion (RIMM) shares headed higher ahead of its announcement this afternoon of earnings for the fiscal third quarter ended November. Standard & Poor's analyst Todd Rosenbluth wrote Thursday morning that all eyes will be on February quarter guidance, "given its exposure to U.S. consumer spending and financial services firms' telecom equipment spending, "both of which could be restricted in early '08."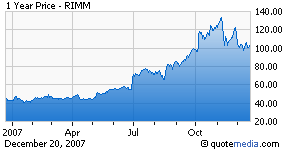 Rosenbluth sees November quarter revenue of $1.65 billion, with EPS of 62 cents, which is right in line with the consensus. For the February quarter, he sees $1.84 billion and 67 cents; the Street sees $1.75 billion and 65 cents. Rosenbluth expects smartphone sales in the November quarter to double from a year earlier. He maintains a Hold rating on the stock.

ABI Research this morning forecast that RIMM should finish the year with 10% of the smartphone market, which would make it No. 2 in the category, trailing only Nokia (NYSE:NOK). ABI notes that RIMM's share of the market has increased from 7.2% in calendar Q3 2006 to 9.5% in Q3 2007. The firm notes, though, that the company gets most of its business in North America, and needs to increase its focus on emerging markets in Asia and elsewhere.
RIMM Thursday is up $3.65, or 3.6%, at $105.78.