Value investors can invest in gold stocks at today's low market valuations while choosing to either accept exposure to gold as an attribute of a diversified portfolio or choosing to hedge out exposure to gold prices by using put options. Going long gold miners is an attractive strategy either as a hedged, pure value play or as a value play with a gold kicker.
The price of gold per ounce has been between $1700 and $1600 in recent months, well above the cash costs of gold production. Meanwhile, gold stocks sold off. As a result, many gold stocks are trading at very low price-to-book multiples:
| | | | |
| --- | --- | --- | --- |
| Ticker | Company | P/B | 2012 Est. Cash Cost ($/oz) |
| LSGGF.PK | Lake Shore Gold Corp. | 0.38 | 825 |
| | Primero Mining Corp. | 0.49 | 640 |
| | Jaguar Mining Inc. | 0.51 | 1000 |
| | Kinross Gold Corp. | 0.71 | 596 |
| | Harmony Gold Mining | 0.98 | 1182 |
| | IAMGOLD Corp. | 1.18 | 682.5 |
| | Eldorado Gold Corp. | 1.25 | 700 |
| | Goldcorp Inc. | 1.29 | 700 |
| | Yamana Gold, Inc. | 1.32 | 500 |
| | Barrick Gold Corp. | 1.52 | 540 |
| | Gold Fields Ltd. | 1.58 | 767 |
| | Newmont Mining Corp. | 1.7 | 620 |
| | Agnico-Eagle Mines | 1.96 | 720 |
| | AngloGold Ashanti Ltd. | 2.47 | 827.5 |
| | NovaGold Resources | 2.51 | 409 |
| | Seabridge Gold, Inc. | 2.85 | 498 |
| | Randgold Resources | 3.11 | 781 |
The stocks on this list were selected for components of a long/short hedge gold miner portfolio. LSG and PPP were included because they trade at low P/B ratios, and the remaining stocks were included because they have active long-dated options markets. Many of these gold shares are interesting in their own right on the basis of value, not merely as gold investments. They can be used as components of a gold-neutral fund or for gold investing.
When possible, estimated cash costs were compiled for 2012 based on management guidance. In cases where guidance was unavailable, average cash cost per ounce from the most recent period was used in place of a 2012 forecast.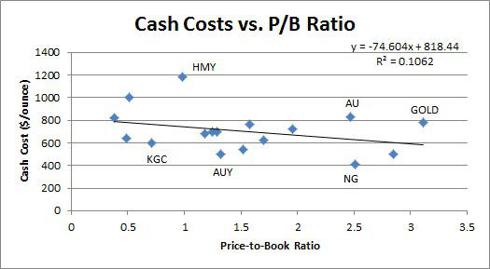 Based on valuation and the cost of production, it is clear that KGC, AUY, and NG are interesting buy candidates. They trade at low valuations and low cash costs of production. Many other gold stocks with higher production costs will turn unprofitable before these stocks turn unprofitable.
Conversely, HMY, AU, and GOLD are compelling candidates for buying puts. These stocks have valuations and production costs that are above the industry trend. Investors can buy puts on these firms to hedge their exposure to gold, essentially insuring their investments in other firms with lower cash costs, which are trading at lower valuations.
Why hedge?
How much is gold worth? Since gold has no cash flow or income stream, it has no calculable value. What's more, I would be insane to claim that I could forecast gold trends or tomorrow's gold price. It would be irresponsible to suggest that such forecasts could form a basis for prudent investing. Ultimately, gold buyers and gold sellers trade to determine future gold prices in ways no gold trader can systematically predict.
Constructing an Unhedged Portfolio
Gold bugs should consider constructing a homemade gold ETF by buying shares of KGC, AUY, and NG. These names are how to invest in gold with a value kicker. Selling out-of-the-money calls on these stocks can provide income and smooth out returns.
Constructing a Gold-Hedged Portfolio
A gold-neutral portfolio can be constructed by buying out-of-the-money January 2014 puts on GOLD and AU as well as purchasing out-of-the-money January 2013 puts on HMY shares. (At present the puts listed for HMY in 2014 are all in the money, though this could change.) The long portion of the portfolio can be constructed by purchasing shares of KGC, AUY, and NG. The resulting portfolio is designed to capture alpha by shorting more expensive gold stocks with riskier operations while going long cheap stocks with operations that are more robust to gold price declines.
Disclosure: I have no positions in any stocks mentioned, and no plans to initiate any positions within the next 72 hours.