Last Week's Early Strength and Late Weakness

Last Tuesday's positive national ISM numbers sent the Dow Industrial Average surging. Many analysts were euphoric, and some in the media were talking about the possibility of breaking though resistance that had formed over the past month, and a new price melt-up occurring. At the same time, other analysts were warning about a coming banking crisis in Europe, and the seasonal tendency to "sell in May and go away" here in the U.S.
The the strong ISM numbers were indicative of strengthening U.S. manufacturing on the supply side, but many analysts were still tempered in their positive outlooks by U.S. unemployment concerns. Employment numbers were expected to come out later in the week. In Wednesday and Thursday trading, the market wrestled with these issues, selling off to Tuesday ISM pre-announcement levels but rallying back again almost to the Tuesday top.
Friday's employment number was released, and the market found it uninspiring. Upon its release at 8:30 a.m. ET Friday morning, the market tanked. Asian markets, already rattled by their own issues and ones in Europe, had also been buoyed throughout the week by possible strength in North America. This completely fell away over the weekend.
This Week's Continued Weakness

By Sunday morning, the Dow futures had tanked yet again and were flirting with significant technical support levels, approaching prices that erased an entire quarter of gains on the Dow. In the short time since last Tuesday's ISM intraday high, the Dow had now lost almost 500 points, or 3.7%.
Since then, the Dow has been trading in a highly volatile 250-point range. On Monday, it rallied about 200 points in what appears now to have been a "dead cat bounce." Tuesday's perceived market and global banking "unfriendly" European election results seemed to have caused this cat's demise. Weakness occurred in European trading in the morning, and when the U.S. market opened prices dove precipitously to new weekly lows here until continental European markets closed at 11:30 a.m. ET, down almost 250 points from Monday's bounce. This put a second significant test on a large quarterly price pivot occurring in the Dow, which is viewed among market technicians as a very negative market outlook indicator.
Bouncing again off this support, the market rallied back Tuesday afternoon. Unfortunately, looking at the Dow futures, you could see that Asian markets were unconvinced at their open Wednesday and eroded these gains by half. When the European markets opened, all of these gains were gone by the opening bell here in the U.S. Wednesday morning. That inspired a sinking of the Dow to a third new low in three days, and called into question the major support/pivot issue again. Triple bottoms are highly reactive market events, and the volatility index (VIX) became a hot topic of conversation. The market initially bounced heartily off of this third test of support Wednesday afternoon, however, with many analysts believing that European global banking concerns were possibly overblown. Other analysts were pointing out that the broad market was full of weakness, that the VIX -- a measure of short interest coming into the market -- was becoming more "awake" and that, looking at the nearly continuous global futures market, a descending triple bottom had occurred. So by Wednesday's close half of these gains were gone, and the rest disappeared in aftermarket trading on negative market outlooks from Cisco (NASDAQ:CSCO).
On Thursday morning in Asia, U.S. securities rallied modestly but sold down again in Europe. In a small change of pattern, the market rallied at the opening here. This was considered a positive sign, that perhaps the triple bottom was holding after all. But then the market started to sell down into Europe's close, a cause for concern. But it managed to hold on to half of its morning gains, and trade in this range through the afternoon. Analysts felt one more bullet had been dodged.
Unfortunately, the market sold off again -- dramatically -- in Thursday's aftermarket, with Dow futures diving lower than Wednesday's lows. Quadruple bottoms are rare in market dynamics. As of Thursday evening, the Dow futures traded lower than they had on a strict day-to-day "quarterly basis." A pivot in the Dow futures has now occurred, so today's market here in the U.S. should be particularly interesting.
I have included a chart of the /YM, the globally traded Dow 30 Industrials Mini-Futures, for quick referencing. One the chart it is easy to see Tuesday's ISM strength, Wednesday's and Thursday's lack of conviction, Friday's precipitous sell-off on U.S. employment concerns, Asia's Sunday morning reaction to Friday's U.S. market deflation, Monday's bounce back from piercing and trading within the critical 12700 handle, Tuesday's European election woes, the bounce off the double bottom, Wednesday's lack of conviction and triple-bottom bounce, and Thursday's seeming turn with higher highs and higher lows forming, only to find that completely erased by extended-hours trading Thursday evening.
A sustained break below the 12750 level and breaking 12700 today could present real problems for the market on Monday. Hopefully things won't turn that ... black.
No doubt the Fed is watching, and regardless of what might be voiced this week, QE3 may be just around the corner.
/YM Dow 30 Industrials Mini-Futures 10-Day 15-Minute Chart
Click to enlarge image.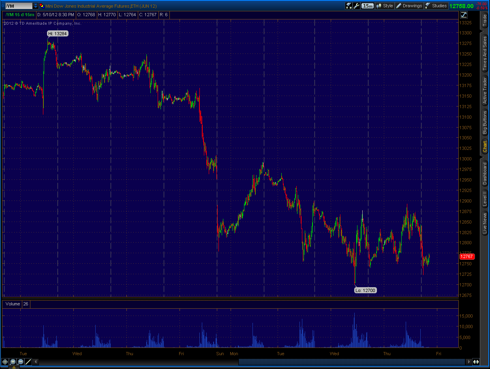 Disclosure: I am short SPY.