John G. Taft's "Stewardship: Lessons Learned from the Lost Culture of Wall Street" (Wiley, 2012) is authored by a deeply principled adviser whose clients are investors in corporations rather than their managers. The issues are very similar: the need to focus on the longer term, the client, the broader common good, and the long-pondered corporate agency/principal relationship where many study the conflicts of in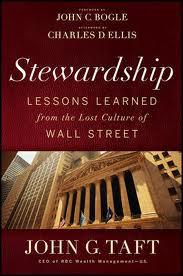 terest that arise. Author Taft, great grandson of U.S. President William Howard Taft, is an active manager of $220 billion of other people's money as CEO of RBC Wealth Management in the U.S. and former chairman of SIFMA (the Securities Industries and Financial Markets Association).
The same agency/principal conflicts of interest concern Taft regarding asset owners vs. asset managers as worry corporate managers vis-à-vis their shareholders, consumers, employees, and other stakeholders. Taft has a deep understanding of the responsibilities of agents to stewardship and the larger concerns for the common good, the planet we all inhabit and its sustainability for all life. His long-term perspectives come from having done time in politics and seeing the sausage-making of laws in democracies up close. Taft was a young speechwriter for the visionary former mayor of St. Paul, Minn., George Latimer (who I remember attending one of my lectures there in the 1980s).
While corporate consultants must be exhortatory, Taft is magisterial and authoritative, using his influence on companies as an asset manager. He has deep knowledge to share. I recommend Taft's book to portfolio managers, corporate executives and politicians, since all of these positions are like agents: entrusted by asset owners, by shareholders and other company stakeholders, and, in the case of politicians, as responsible to voters and the public interest.
While the conflicts inherent in the corporate agency/principal relationship have been researched and covered in business schools and journals, less has been written about the conflicts between asset owners and clients vs. their fiduciaries, portfolio managers, and consultants. Especially in the huge portfolios of institutional investors, this agency/principal issue has become deeply compromised as revealed in the 2008 financial blowups -- and is unresolved to this day. Former banker Paul K. Woolley became so alarmed by this issue that he founded the Center for the Study of Capital Market Dysfunctionality at the London School of Economics (see "The Future of Finance" and my review in 2010 for Seeking Alpha and Ethical Markets).
John Taft and the legendary "conscience of Wall Street," John Bogle, who wrote the foreword to Taft's "Stewardship," would no doubt agree with Woolley, a former banker. Taft offers a detailed review of U.S. securities laws and compares them with those in Canada, Europe and other countries, focusing correctly on the need for harmonizing these rules in today's interconnected global economies and financial markets. With deep knowledge of all these levels of governance, Taft analyzes the Dodd-Frank laws, why their implementation has lagged, the role of regulators, and issues of coordination in satisfying detail. He examines Basel III and the issues before the G20, the likelihood of future financial bubbles, levels of debt and leverage, capital requirements, and the unresolved problems of high-frequency trading, which I believe must be curbed, along with naked credit default swaps, where trading has become no more than betting and is addictive as gambling.
Taft, as an active and successful money manager, cannot step too far outside the box. Laudably, he reminds financiers that they do not provide capital but are intermediaries -- where their stewardship of clients' assets is primary. However, Taft avoids such current issues as the financial transactions tax, now widely supported by NGOs, politicians and EU country leaders, and on the agenda of the G20.
Nevertheless, the corporate and financial sectors are fortunate to have articulate and deeply principled stewards like Taft. He should be heeded, and his book read closely by agents responsible to all stakeholders in their respective sectors -- as well as all concerned with the need for restoring trust and ethics to all markets.
Disclosure: I have no positions in any stocks mentioned, and no plans to initiate any positions within the next 72 hours.