Here in Baltimore, we know a thing or two about artificial power. 17 current and former players on the Orioles baseball team were named in the big Mitchell Report issued last week for using performance-enhancing drugs. But the economy's been juiced up too, on sub-prime steroids that caused a cancer in the markets.
Luckily for us baseball fans (not just in America--Cuba and Japan are tops in the world these days), and for us investors, there is still plenty of pure power out there.
In its recent "Renewable Energy Attractiveness" report, accounting firm Ernst & Young's UK-based Renewable Energy Group breaks down the potential for renewable energy stocks and index funds to crush market averages.
With the sub-prime subterfuge of the past few years now hitting the fan, markets have been shaky and access to project funding in just about every industry is threatened by the choke in credit markets.
"Paradoxically," report author Jonathan Johns says, "the sub-prime credit crisis could well reinforce the growing appreciation of renewables as the hot investment sector with real cash flows and strong long-term growth prospects"(emphasis mine).
Mr. Johns isn't talking about some pie-in-the-sky market for renewable energy. He's talking about the fast-paced policy changes and Peak Oil realities already driving solar, wind, biomass, and other fuel sources to the fore.
Just take a look at this chart of the PowerShares WilderHill Clean Energy ETF (NYSEARCA:PBW) compared to the Dow. Despite this year's market woes, PBW has outperformed the blue chips by 733%!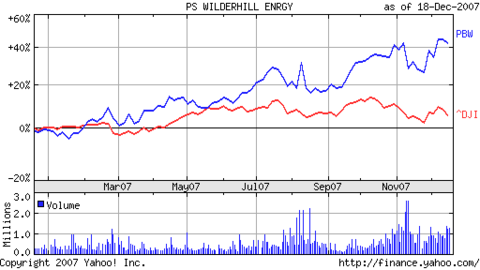 And there's more to come, because Washington is finally in it to win it, instead of letting state capitals boost our national numbers in studies like E&Y's Renewable Energy Attractiveness Index.
Renewable Energy Steroid Statistics
You see, just as with Barry Bonds, Mark McGwire, and maybe even Roger Clemens, lofty American renewable energy stats need an asterisk next to them.
As of the third quarter of this year, Uncle Sam seems to be in pretty good shape. The U.S. leads E&Y's All Renewables Index's wind, solar, and infrastructure categories.
But added to the list, two asterisks indicate that our national ranking "indicates U.S. states with Renewable Portfolio Standards and favorable renewable energy regimes."
The federal government has moved at a snail's pace with legislation . . . until now.
Energy efficiency is the first step, with final approval given on Tuesday to a major energy bill that will phase out 100-watt incandescent lightbulbs by 2012 and improve household appliance energy use.
Automotive fuel efficiency mandates will rise by 40% for new cars and light trucks by 2020, and 36 billion gallons of biofuels such as ethanol are to be added to the national gasoline supply by two years after that.
Nevertheless, we haven't seen a national "25 by 25" law, which was a key factor in the Ernst & Young aggregate ranking of American states. At the state level in places like Ohio and Illinois, 25% of each state's power must be derived from renewable sources by 2025, and that's a law.
In October the House of Representatives did pass a "sense of Congress" resolution echoing the 25x25 plans, but having worked in those hallowed halls I can tell you how many platitudes are exchanged on paper every day that do nothing to affect policy.
Fortunately, this is still a country where ideas attract investment. What's more, need creates ideas, and the world is in dire straits when it comes to future energy questions.
As you wonder when we'll hit the bottom of the mortgage mess, take a minute to check out the actual fact of renewable energy investment returns. The rewards are consistent and there is a wide range of companies to choose from in this competitive and vibrant market.
Internationally, the spectrum is even more appealing, as global green investments give you portfolio exposure to booming emerging economies like China and Brazil (both renewable energy hotbeds), as well as the domestic sustainable power scene.