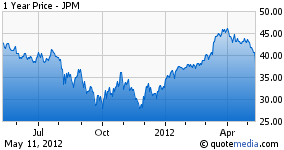 We've all been there. We bought too early. We sold too soon. Or we did both too late. None of us are perfect. But none of us are systematically important to the banking industry either. Which makes JPMorgan's (NYSE:JPM) revelation of $2 billion in, eh-hem, non-proprietary trading losses all the more difficult to digest.
It wasn't so long ago JPMorgan was held up as the gold standard for banks. Competitors like Bank of America (NYSE:BAC) and Citigroup (NYSE:C) were the oversized problem children. Today, we see nothing much has changed inside the walls of our largest institutions. They still need to control risk. And, perversely, this means creating risk.
Inevitably some of those bets will go terribly wrong.
Some will argue JPMorgan's $2 billion loss is a rounding error on its fortress balance sheet. Likely, many will have to. Otherwise, they'll be egg-faced too.
The more things change, the more they remain the same.
The first arbitrage disaster I witnessed in my career was the un-dressing of Long-Term Capital, a hubris inspired company driven by mathematicians hell bent on turning miniscule moves into huge profits thanks to leverage.
But, like most highly leveraged bullet proof strategies, they work until they don't.
And when LTCM failed, $124.5 billion in borrowings created $4.6 billion in losses over four months in 1998 - including a drop from $2.3 billion to $400 million in September alone. The resulting 250:1 leverage and interwoven counterparty risks forced the NY Fed to step in with a $3.6 billion lifeline to keep the disaster from becoming systematic.
At JPMorgan, countless pieces covering the London Whale exposed its London "risk control" office to outsized risk as hedge funds lined up to bet against huge trades. These players correctly bet unwinding JPMorgan's huge bets on the CDX.NA.IG index of 129 large cap corporations would force big losses at JPMorgan and produce hefty gains for hedge fund investors.
And while Jamie Dimon's mea culpa conference call focused on the $2 billion trading loss, and potential billions in legal and ongoing losses tied to further unwinding the trade, investors care more about the $15 billion loss in market cap following the revelation.
It amounts to $15 billion in additional lessons learned, reminding investors forceful denials - such as Dimon's "Tempest in a Teapot" rebuttal to the Wall Street Journal's reporting in April - is as good a sell signal as any. The admission the strategy was "riskier, more volatile and less effective as an economic hedge than the firm previously believed" is a guttural roar of understatement worthy of our collective sarcastic response, "Yeah? You think?"
But, the silver lining beyond the ultimate fall out will likely mirror those past. Those who bought the Long Term Capital inspired drawdown were handsomely rewarded. And domestic regional banks like US Bancorp (NYSE:USB) and Wells Fargo (NYSE:WFC), and small banks, such as Bank of the Ozarks (NASDAQ:OZRK) and National Penn (NASDAQ:NPBC), are uniformly more attractive today than they were yesterday, as billions move out of money center stocks and into mom-and-pop lenders.
Disclosure: I have no positions in any stocks mentioned, and no plans to initiate any positions within the next 72 hours.