We have already expressed doubts about John Paulson's ways of being bearish Europe and, for now, have been proven right as the German Bunds are making records every day. We have also already explained why it is our belief that the eurozone is "turning Japanese," but we will not add to it as this is not the point. The point is that the massive disinflation occurring in Europe is pushing real rates heavily into the euro's favor, especially against the Yen but also against the dollar -- and it is happening now.
Traditionally real rates are the central bank's target rates, or CPI. This is a very lagging indicator because of the CPI component. In order to counter that, we have replaced the CPI by inflation expectations of respective countries (as measured by five-year treasury breakevens or equivalent) that are live and forward looking. The results are staggering. Despite everyone's current belief, they point to a stronger euro and a collapse in the yen.
A quick look at the German debt complex evolution compared to Japan shows that we are there already. Note that the German two-year yield is below that of Japan, and the 10-year yield is on its way. Sorry, Paulson.
Chart: Germany (yellow and orange) and Japan's debt complex
Click to enlarge all images.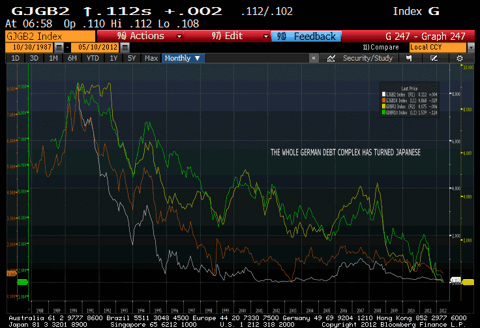 To those who call it a bubble, we have already demonstrated that bond yields over the long term are simply correlated with inflation (assuming no sovereign issues).
Chart: U.S. 10-Year vs. CPI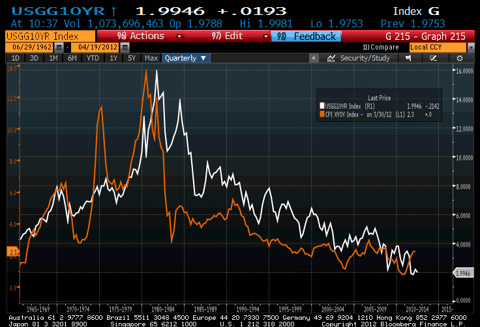 But to the point. A quick look at the three charts below show that live real rates in Japan are collapsing and have just turned negative at -0.5%. U.S. live real rates are still heavily negative and stable at -1.7%. In Europe, for which we use Germany as a proxy (the periphery real rates are skewed by the sovereign woes, though highly positive -- hence the deflationary shock), real rates are only slightly negative at -0.35% (now less than in Japan) and creeping up fast.
Chart: Japan Real Rates Live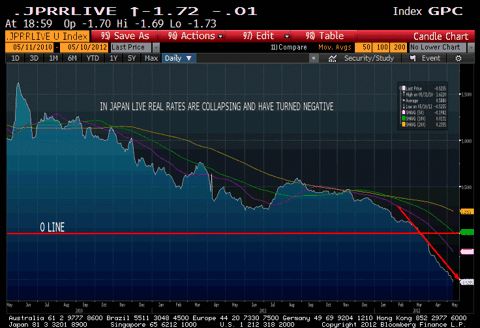 Chart: U.S. Real Rates Live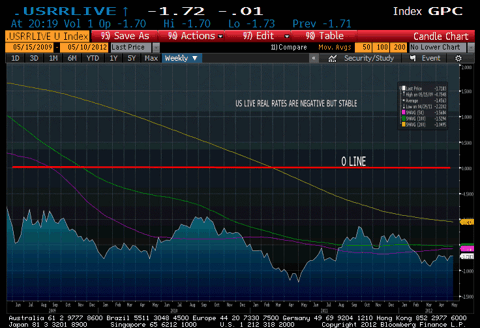 Chart: Germany Real Rates Live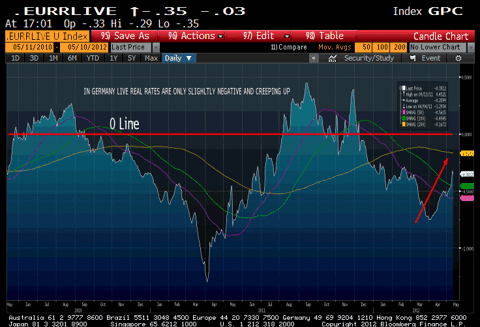 Those charts point to a collapse of the yen, especially against the euro. In fact, live real rates differentials between Germany and Japan have just turned to the euro's favor on an absolute basis by 0.15bs.
Chart: Live Real Rates Differential Between Germany and Japan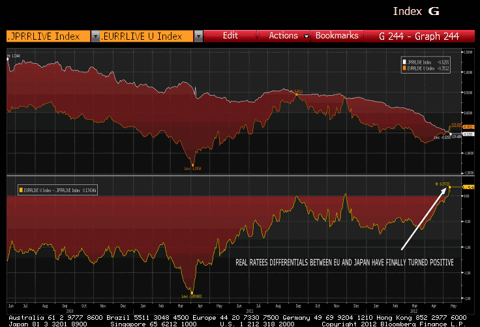 But they also point to a stronger euro vs. the dollar, especially if the trend is to continue.
Chart: Live Real Rates Differential Between Germany and the U.S.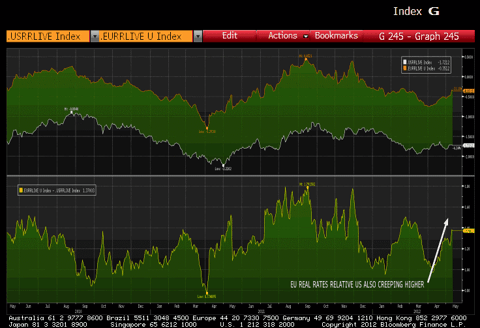 Now, to those who find this analysis simplistic or not taking everything into account, please explain to me why the yen has been so strong during 30 years of ballooning debt and economic woes. The answer is simple: Deflation causes real rates to spike. It also explains part of the dollar strength in 2008 during the debt deflation and the Swiss franc's strength. Safe haven flows are a legend, flows look for real yields.
And for Paulson, Hugh Hendry, John Taylor and all the others who are calling for euro/dollar parity: I doubt it. The yen bears like Albert Edwards are about to get very right, but the euro bears might be about to get obliterated -- similar to those who have been shorting Japanese debt and the yen during the past 30 years.
Obviously, that assumes no chaotic euro breakup with Germany leaving -- but the yen bears are safe.
Disclosure: I have no positions in any stocks mentioned, and no plans to initiate any positions within the next 72 hours.