Precision Drilling Trust (NYSE:PDS) says an aggressive expansion to the United States and abroad, offers the best chance for the company to grow.
But until the plan unfolds over and beyond the next 18 months, National Bank Financial points out that the country's largest drilling company must continue business in the weak Canadian market.
Oilfield services analyst Brian Purdy applauds the strategy laid out Wednesday when Precision laid out a record, C$370-million capital-spending plan for next year. Still, National Bank maintained its 'sector perform' rating and C$20.50 target price for Precision, which "remains strongly exposed to the weak Canadian market impacted by Alberta's proposed new oil and gas royalty framework."
"We believe a Canadian recovery will be slow," Mr. Purdy wrote.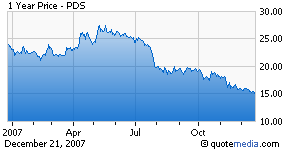 Precision said it will construct 19 new, high-performance rigs in the next six to 18 months, deploying most of these into the United States, where gas activity has chugged along despite low prices. This is the polar opposite to Canada, where the gas industry is in recession.
The company will also aggressively return to the international land drilling arena after a non-compete agreement with Houston-based Weatherford International Ltd. (NYSE:WFT) expires next August.
National Bank expects some of the 2008 expansion budget to get pushed into 2009, which would be in line with management's acknowledgement that new rigs will be deployed over the next 18 months.
The bank's investment division, therefore, said that it has chosen to take a balanced outlook on Precision, which assumes the company's placement of five rigs per quarter into the U.S. between the middle of next year and mid-2009.
Mr. Purdy also points out this encouraging tidbit: Precision management believes up to 1,000 of the 1,800 operating rigs based in the U.S. today have the potential to be replaced by newer equipment.