"Well-informed investors avoid the no-win consequences of high-yield fixed income investing." (David Swensen, Unconventional Success, p. 109)
There seems to be a very high correlation between the demand for high-yield (junk) bonds and the level of interest rates. The fall in Treasury bond rates during the second half of 2007 has once again led many investors to search for higher yields. In addition, the subprime crisis in residential mortgages of the summer of 2007, has led to a general flight to quality and all credit and liquidity spreads have widened. The combination of lower Treasury rates and wider credit spreads has increased the attractiveness of high-yield bonds for many investors. The question is: Does the high yield on junk bonds make them appropriate investments to consider as part of the fixed income portfolio. The place to begin to answer that question is to ask: What role should fixed income play in a portfolio?
The Role of Fixed Income in Portfolios
For most investors, the main role of fixed income securities is to provide stability to their portfolio, allowing them to take an appropriate amount of equity risk. Given that a high (if not the highest) priority for fixed income investors, whether in the accumulation or withdrawal stage, is safety and/or stability of principal, the prudent choice is to restrict holdings to only the two highest investment grades, AAA and AA. Fixed income is the anchor that allows an investor to remain disciplined during bear markets that test their stomach's ability deal with the acid created by falling stock prices. And, while it is true that high-yield debt has non-perfect correlation to equities, a negative feature of lower-rated bonds is that they are more likely than higher-rated bonds to perform poorly at the same time that stocks are performing poorly.
While the issue of risk management should be sufficient reason to avoid the purchase of high-yield bonds. Studies have found that despite the attractiveness of the yields on junk bonds, investors have not been rewarded with appropriate risk-adjusted returns. In other words, the yields were often, or mostly, illusory. The risks of default and early redemption (via calls and what are known as clawbacks—some high-yield securities allow the issuer to call a predetermined amount, typically 35 percent, of the bond if the issuer is able to do an equity offering) led to returns being well below yields. Thus, investors have either not been rewarded, or only received minimal rewards, for taking significant risks.
Keep in mind that one of the risks that investors take with high-yield bonds is liquidity risk. High-yield bonds are far less liquid than investment-grade bonds and investors should be paid for taking that liquidity risk. And remember that the liquidity risk tends to show up at the wrong time (when equities are falling). So it is risk adjusted-returns we should care about, not just returns.
Asset Location
Another issue is one of location. Academic research has found that the three equity risk factors explain a significant part of the return on high-yield bonds. The three factors are exposure to the risk of the overall stock market and to the risks of size (small companies) and value. This creates a location problem for many individual investors. The reason is that when investors have a choice of location they should prefer to hold as much fixed income risk as possible in tax-advantaged accounts and then hold equities in taxable accounts. If an investor who has a choice holds high-yield debt in a tax-advantaged account, he/she is holding the equity risk in the wrong location. And if he/she owns the high-yield debt in a taxable account, he is holding the bond risk in the wrong location.
The Historical Evidence
Let's examine the evidence from two studies on high-yield debt. The first, "Which Risks Have Been Best Rewarded?" covered the period 1985–2002.1 The results can be found in the following table.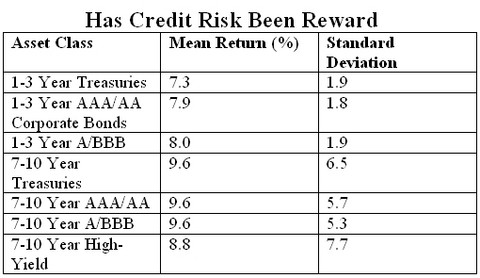 As you can see, the only place credit risk was rewarded was at the very short end of the curve. At longer maturities U.S. Treasuries produced higher returns than did high- yield bonds and did so with less risk. It is important to note, however, that this period ended with credit spreads on junk bonds at historically high levels, negatively impacting the results. So the data might just be period specific. We need to be careful that we are not taking just a slice of data that is has been subject to adverse selection.
We can also look at a more recent study, "Original Issue High-Yield Bonds," that covered the period 1997–2006.2 This study took the unique approach of breaking the high-yield market into two subcomponents: original issue and fallen angels (bonds initially rated as investment grade that were subsequently downgraded). The study produced some interesting results.
The author, Martin Fridson, using data from the Merrill Lynch High Yield Master II Index, found that there is an apparent anomaly in the market. It is only the fallen angels (FAs) that produced significantly higher returns. In fact, original issue [OI] high-yield bonds returned just 5.8 percent per annum, barely outperforming the 5.7 percent per annum return of ten-year Treasuries (comparable maturity securities). The reason was that the OI bonds deteriorated in price by almost 3 percent per annum (the high coupon was illusionary). It was only the FAs that provided significantly higher returns. They returned 10.4 percent per annum, benefiting from a rise in price of almost 2 percent a year. Fridson found that the difference in returns between the OI bonds and the FAs could not be explained by either differences in maturities or credit risks, nor were they explained by extreme differences in particular years. Note that the overall return of high-yield bonds was 6.6 percent per annum.
It is important to consider that Fridson's findings are also biased by the specific period—only in the reverse way the previous study was biased. In this case, we ended the period with spreads on high-yield bond at historically low levels. For example, at the end of 2002, the spread between 10-year Treasuries and B-rated bonds was 6.7 percent. By the end of 2006, the spread had fallen by more than half, to just 3.0 percent. By the end of 2007, the spread had once again widened, approaching 5 percent. Thus, the picture for high-yield bonds would have looked quite different (worse) than even Fridson found (the spreads between the 10-year Treasuries and the Merrill Index had fallen from around 8 percent at the end of 2002 to around 3 percent at the end of 2006).
Fridson attempted to explain the anomaly of original issue high-yield bonds failing to deliver appropriate risk-adjusted returns. One obvious explanation is that the market in high-yield bonds is not very liquid, making it difficult to short "overpriced" OI high-yield bonds and take an equivalent long position in the FAs. Along the same lines, the credit derivative market in junk bonds is just not developed enough to allow for arbitrage—so the anomaly persists.
Another explanation is that investors were unaware of the difference in performance between OI bonds and FAs. Fridson points out that, in fact, high-yield managers have generally disdained FAs because they typically offer weaker covenants than do OIs. Note that their weak covenants results in greater risk and therefore help explain the risk premium FAs have earned.
Fridson offered four other possible explanations for the anomaly.
Focus on Security Selection: Even if managers were aware of the data, they might still have invested in the segment based on the belief that they, individually, are above average and can avoid the bonds that will drag down performance. Remember, active managers must believe they are above average or they would have no reason to exist.
Dependence on New Issues to Deploy Funds: Typically a high-yield fund will want to be fully invested. With FAs being less than 30 percent of the high-yield market it is hard to stay fully invested if a high-yield manager excludes over 70 percent of the market.
"Lottery ticket" effect: Even when high-yield produces relatively low returns over long periods, they often produce extremely high returns over brief periods. For example, the Merrill Lynch Masters II Index returned over 25 percent in 2003. Thus, at any point in time active managers may perceive the opportunity to win "the lottery." Thus, the large upside potential outweighs an average outcome that is unattractive.
Mirage of Remedy Based on Yield Rather than Return: Unfortunately, the evidence suggests that the yield is not sufficient to compensate for the future declines in price that OI high-yield bonds experience.
Fridson concluded that the "problem" might result from the fact that the findings upon which high-yield bonds were first marketed to investors in the late 1970s were based upon the performance of the FAs—prior to that there really was not much of a market, if any, for OI junk bonds. Unfortunately, the subsequent new issues market has failed to replicate that performance.
Call Risk is the Enemy of Returns
In addition to the possible explanations already discussed, there is another major factor in the difference in performance between OI high-yield bonds and FAs. As was mentioned earlier, OI high-yield bonds come with significant call risk. For example a ten-year bond might be issued with a coupon of 8 percent and call protection for only the first five years, after which the bond could be called at 104 (limiting the upside potential). It is important that investors understand that the call risk is not only related to the risk of falling interest rates. The bond could also be called if the credit rating of the issuer improves so that new capital could be raised at a lower spread. And there is the previously mentioned risk of clawbacks. These risks are less present in FAs as their prices are typically trading well below par due to the fall in their credit rating (unless rates in general have fallen dramatically).
Summary
For the reasons we have discussed, there does not appear to be a role for high-yield bonds in investor portfolios. And while anomalies generally should not persist once they are known (though a few have), for the reasons Fridson cites this anomaly might just persist. For now, there is only one segment of the high-yield market, the FAs, that appears to have delivered appropriate risk-adjusted returns. However, even that sector has the issue of location and correlation risks that do not fit the role that most investors have for fixed income investments. And there is no implementable low-cost, passive strategy to invest in only the FAs.
The bottom line is that Fridson's findings only add fuel to the argument against including high-yield junk bonds in a portfolio. If investors need or desire more return from their portfolios, the more prudent way to attempt to earn that return is to either increase their exposures to the stock market or to increase their exposures to small and/or value stocks. These solutions allow for not only more effective diversification (passively managed equity funds typically hold many more securities than a high-yield bond fund would hold), they also avoid the location problem. Thus, the solution for investors is to think of the problem in terms of total portfolio return, and not just yield.
Antti Ilmanen, Rory Byrne, Heinz Gunasekera, and Robert Minikin, "Which Risks Have Been Best Rewarded?" Journal of Portfolio Management, Winter 2004.
Martin Fridson, "Original Issue High-Yield Bonds," Journal of Portfolio Management (Fall 2007).
Disclaimer: Larry Swedroe is the author of Wise Investing Made Simple (2007), The Only Guide To A Winning Investment Strategy You Will Ever Need (2005), What Wall Street Doesn't Want You to Know (2000), Rational Investing In Irrational Times, How to Avoid the Costly Mistakes Even Smart People Make Today (2002), and The Successful Investor Today: 14 Simple Truths You Must Know When You Invest (2003), and co-author of The Only Guide to a Winning Bond Strategy You'll Ever Need (2006). He is also a Principal and Director of both Research of Buckingham Asset Management and BAM Advisor Services — a Turnkey Asset Management Provider serving CPA-based Registered Investment Advisor (RIA) practices — in Clayton, Missouri (www.bamservices.com).
His opinions and comments expressed within this column are his own, and may not accurately reflect those of the firm.