May 10, 2012: The steady multi-year decline in the price of natural gas seems to have stopped and reversed given the change in fundamentals. Prices rallied by over 25% in the past few weeks due to a reduction in supply.
After a sustained fall in natural gas prices, big players such as Exxon Mobil (NYSE:XOM) and Chesapeake (NYSE:CHK) energy decided to reduce output. This has led to a rally in prices and from a long term perspective a reduction in output combined with growing demand for natural gas as a substitute for crude oil will push prices higher. But will there be more demand for natural gas is the million dollar question. Also on the supply side it's doubtful if manufacturers will keep supplies low. Competition is sure to force increased supply from manufacturers eager to increase revenues and profits.
In this tight regulatory environment no one knows how supply and demand will be affected. So long term views are fraught with risks. But if market forces are allowed to play out, natural gas demand will increase substantially to replace crude oil, which is much more expensive. The factors than can increase demand for natural gas include a continued increase in crude oil prices, which would push a switch to gas from crude.
There are other positive factors too. The prices in Europe, India and China for natural gas are much higher than they are in the US. Eventually the market will find a way to ship gas to higher priced areas, which will push up prices. Additionally, there is a trend in the US where private transportation companies are moving away from diesel and gasoline to natural gas. A lot of public transportation departments are already using natural gas.
In case the Environment Protection Agency (EPA) comes down against fracking -- the drilling technique that has increased the supply of natural gas -- the price of natural gas will rise. The companies drilling for gas would be adversely affected, but the price of the commodity would increase, as supply will be constrained.
Given the high demand for natural gas overseas and the possibility of tighter EPA regulation, we believe that the price of natural gas is more likely to rise than fall. Even if the US government gives greater freedom for drilling gas, we feel that the overseas demand can absorb supply. The only downside in such a scenario would be that prices would rise at a slower pace.
There are two ways investors can play with just the commodity and not the companies that drill natural gas. Once could buy the natural gas futures contract (NG) or buy the exchange traded fund (NYSEARCA:UNG) that invests in futures contracts. If investors are interested in natural gas companies they can look at Revere Natural Gas Index Fund (NYSEARCA:FCG). One can also look at individual companies such as Cabot Oil & Gas (NYSE:COG), EOG Resources (NYSE:EOG) , Devon Energy (NYSE:DVN), Anadarko Petroleum (NYSE:APC), Apache (NYSE:APA) and Chesapeake Energy (CHK).
However, is it time to buy natural gas right now? We don't think so. Prices have run up substantially and could pull back. Let us look at the chart of UNG to identify areas to buy.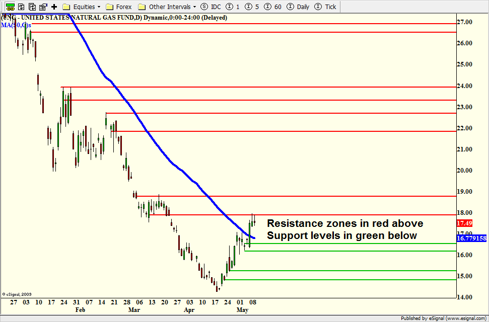 The levels marked by green lines are support levels and if prices reach those levels one could buy. Prices often turn higher from support areas. The support levels are between $16.25 and $16.50 and below that around the $15 level. Aggressive traders can still buy right now with a stop at $15.95, which is just below a support level.
Another positive for UNG is that it cleared the 50-day simple moving average, which is shown by the blue line on the chart. However, the line still slopes downward and will be valid as support only when it slopes up.
The red lines are resistance areas and prices often fall from resistance. Notice that price of natural gas has hit a resistance level and stalled. The resistance level is between $18 & $19. It might take a few days to break out of the resistance level, but once clear of the area prices can go all the way up to $22 before hitting resistance again. However, the resistance can turn prices lower to a support level, providing a great opportunity for investors to buy.
Caveats
Nothing is guaranteed in the markets and our analysis can be proven wrong. If natural gas prices makes a new all time low, we would give up our bullish bias.
Disclosure: I am long UNG.