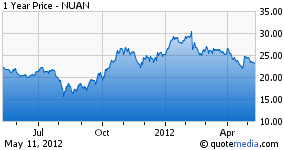 Nuance (NASDAQ:NUAN) may be best known for its Dragon Naturally Speaking software, which helps PCs understand voice commands. But investors should be more focused on its healthcare and customer care products and its position as the go-to leader in voice controlled consumer electronics.
I've written before about Nuance's Siri connection with Apple (NASDAQ:AAPL). In the FYQ1 conference call back in February, Nuance's CEO Paul Ricci cited unprecedented demand for its solutions. Likely, thanks to Siri's revolutionizing how consumers interact with their phone.
This demand propelled Nuance's FYQ2 revenue 22% higher to $390.3 million. It also provided Nuance with enough volume and pricing power to drive earnings up 34% to $0.43.
The quarter proved strong enough for Nuance's CFO Tom Beaudoin to use "unprecedented" again to describe interest in Nuance's voice solutions. And, for Mr. Ricci to describe interest in mobile and consumer devices as "intense" thanks to competitors "racing" to implement voice.
Sales were up big across all segments.
More than ever, medical services are digitizing healthcare records, providing significant opportunities for voice driven solutions tied to updating and accessing information. As a result, healthcare - which is Nuance's biggest market - saw revenue jump 23.9% last quarter to $149.9 million as license sales increased. As Nuance's products become better at understanding clinical language, demand will continue higher.
In its mobile and consumer segment, phones, autos, tablets and televisions are increasingly embracing voice control. This helped sales increase 22.8% to $115 million. As voice gets deployed in more and more devices, Nuance will benefit from recurring revenue tied to usage. This will really pay off as innovation allows the technology to be deployed globally.
Siri inspired demand helped Nuance ink new deals in the quarter, including what was described as a material contract with a leading consumer electronics OEM for mobile and "entertainment" devices. Overall, the company noted mobile and consumer bookings were significantly better than any of the previous 12 quarters.
In Nuance's enterprise segment, which produces a solid stream of future service and maintenance revenue, voice recognition remains a great way for companies to manage customer care. Growing demand for customer self service voice products helped segment sales grow 23.5% to $91.4 million.
Finally, the company's eCopy ShareScan products, which capture data from paper and input it into business apps, helped imaging segment sales climb 41.6% to $61.3 million. Bigger deals tied to enterprise networks fueled the growth.
All this strength supported a boost to FY13 guidance.
The company now sees revenue of $1.72-$1.76 billion in FY13 - above analysts' $1.71 billion forecast. This will help Nuance add to its $976.8 million cash position, providing it with plenty of room to continue to acquire complementary technology and young up-starts, such as its recent acquisitions of Transcend and Vlingo.
Given summer is historically a weak period for Nuance shares - it's only finished July higher than it starts May in two of the past 10 years - any weakness may prove a great opportunity to buy ahead of stronger end of year sales.
Disclosure: I am long NUAN.