If history is any indication, National-Oilwell Varco's (NYSE:NOV) recent acquisition could end up benefiting Grant Prideco's (GRP RETIRED) shareholders more than its customers. Acquisitions of companies with higher customer satisfaction ratings (i.e., Grant Prideco) by companies with lower customer satisfaction ratings (i.e., NOV) tend to pull the ratings of purchased companies down rather than lift the ratings of the acquirer. In addition, bigger is not always better in terms of execution and in satisfying customers.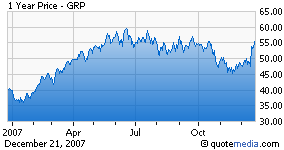 While some customers do very much like (at least on paper) the extensive line of products NOV offers as a result of the past merger between Varco and National Oilwell, a number of NOV customers that we have been in contact with have expressed concerns with NOV's record in delivering products on time and as ordered. As a result, we suspect there are some customers in the oilfield that, at least off-the-record, have some worries as to whether NOV will be as committed to (and as capable of) meeting their needs as Grant Prideco has been. This would especially seem to be the case for drilling contractors since Grant Prideco is a major supplier of drill pipe.
For your information, in terms of our 2007 customer satisfaction ratings, Grant Prideco is rated 2nd in drill bits (behind Smith International) and first in drill pipe. Alternatively, NOV rates in the bottom half in several categories of Rig & Rig-related Drilling Equipment that we follow.
Finally, it should be pointed out that companies currently competing with Grant Prideco in the areas of drill pipe and drill bits will likely move to exploit customer concerns that the quality and service they have come to expect with Grant Prideco might not be maintained once NOV takes over management of Grant Prideco's operations. Smith International already successfully competes with Grant Prideco on both the drill bits and drill pipe sides while enjoying very high levels of customer satisfaction. As such, we would expect Smith International to be the biggest beneficiary of any customer defections or disillusionment that result from the deal. It will be up to NOV to recognize and understand these concerns and make sure future quality and service do not deteriorate once Grant Prideco is part of NOV.
If they do not, we expect a potential loss of market share for Grant Prideco's products.
In closing, we believe differences in NOV's and Grant Prideco's standings in terms of customer satisfaction and culture will make for a potentially different kind of merger than the National Oilwell and Varco combination a couple of years ago (which is viewed by investors as having been very successful). Time will tell whether these differences can be overcome / dealt with successfully.
From what we glean from our oilfield customer satisfaction surveys, it will certainly require much more attention to customers' needs and execution at the customer level than NOV displayed with the Varco - National Oilwell merger a couple of years ago.
Disclosure: none