I'm a Netflix (NASDAQ:NFLX) bear. I believe the company is on the road to perdition, if you will. That said, with the recent noise and numbers surrounding the Facebook (NASDAQ:FB) IPO, I've begun to build a thesis for the existence of Netflix - except not owned by Netflix. Bear with me here as I run thru why it would make sense.
Facebook has around 900 million users. With their lofty valuation, Facebook needs to start making a lot of money. It essentially needs to sell something people want to buy. What do people buy from Facebook currently? Ads. Credits. Not much else.
Facebook needs to sell content, communications and a lot more to bridge the gap between their pending enormous valuation and earnings growth. They need an ecosystem that creates a lot of revenue in order to obtain some more profit via those 900 million users. With the recent introduction (albeit a little odd in implementation) of an App store, there is hope for a Facebook device perhaps as well as hope for more revenue streams if they can make it usable.
Why Netflix and Facebook?
Netflix makes money on streaming subscribers when they reach a certain number that is greater than the cost of their current content obligations, marketing costs, overhead, etc. The problem with this is a high amount of churn and that the addressable US market is not seemingly interested. I wont go into arguments against growth, as there are plenty of great articles detailing their growth issues (see recent ones by SA author J. Mintzmyer). Netflix has been running out of steam.
So why should Facebook pick up Netflix rather than negotiate its own content agreements? That's exactly why. If Facebook can buy the content contracts that Netflix currently owns, it could monetize them to a far greater extent before they run out, potentially putting the content industry in a state of dependence on FB, kind of like Apple, Inc (NASDAQ:AAPL) has done with the music industry. This depends on Facebook's non-conflict with those agreements, and the agreements surviving a buyout.
Why Not?
The biggest reason for Facebook to leave Netflix alone is the Video Privacy Protection Act of 1988 (VPPA). This law prohibits Netflix from showing a user's viewing history in a Facebook news feed, and would likely prohibit Facebook from the same, unless they can find a way to show videos without them being defined as rentals - Amazon (NASDAQ:AMZN) Prime anyone?
The next biggest reason is that they can wait until Netflix is on its knees begging for a buyer. I discount this reason, as I would think FB would want as many content contracts intact for as long as possible if they were interested.
What about other players?
While I think it is possible that Microsoft Corporation (NASDAQ:MSFT) could be interested in the same kind of deal to augment its Xbox Live platform, I'm not convinced it's as profitable a deal as it would be for Facebook. I do not think that Apple would be interested as they have been pursuing their own content deals and use different business models that work in all weather.
What Now?
I'm still bearish, and I plan on continuing my strategy of buying option straps and straddles and possibly augmenting that with active trading covered call/put strategies in both directions (limiting upside and downside). This strategy only works when there is movement. I've had good weeks and bad weeks (mostly due to not taking profit when it was there) with it on NFLX.
Please feel free to inform with solid information regarding survivability of contracts, etc. in the comments section. I've asked NFLX IR, but their reply was not very helpful:
Click to enlarge.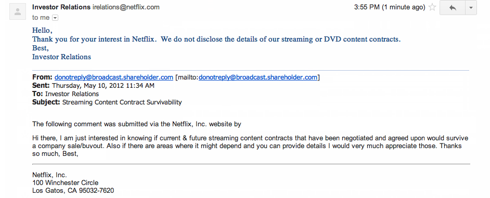 Disclosure: I am short NFLX. I am long NFLX puts and calls at varying strike prices in a option strap/straddle strategy.