Caris & Co. analyst Daniel Berenbaum Monday raised his price target on Intel (NASDAQ:INTC) by a dollar to $29 after coming across some personal computer data points that suggest sales should be better than average in the first quarter. He also raised his estimates for the current quarter and next year.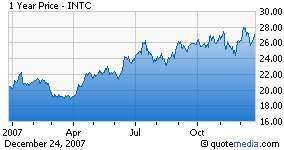 Saying that so-called original device manufacturers's shipments and trends in PC motherboard sales are strong, Berenbaum calls the landscape "largely positive" for computer components, including Intel's microprocessors. He does concede that there are "On the margin […] signs of weakness," including "isolated instances of excess inventory in [microprocessors] and chipsets," but it's not clear it will develop into anything substantial, writes Berenbaum.
As for competitor Advanced Micro Devices (NASDAQ:AMD), the company's situation is "so weak that Intel has continued along its own path with limited interference," by which Berenbaum means that he doesn't foresee any drastic price cutting by AMD that will hurt Intel anytime soon.
Berenbaum is raising his estimates for the current quarter to $11 billion in sales and 42 cents per share in profit, from $10.7 billion and 40 cents, and for next year, to $41.6 billion and $1.53 from $39.4 billion and $1.42. That 2008 profit number is a couple pennies ahead of the average analyst estimate, I note, though Berenbaum is still lower than the Street on sales for 2008: analysts are expecting $41.78, on average.
Berenbaum assigns Intel an "above average rating" and thinks the stock should trade at 19 times that $1.53, or $29, given its free cash flow yield of 6%. On that basis, I calculate Intel's trade at about 17 times estimated free cash of $9 billion for next year.
That doesn't leave too much upside, however: Intel shares Monday are up about 1% at $27.22.