It is no fun being a bank CEO these days. Even banks that have no exposure to subprime mortgage lending businesses are getting tarred with the credit scandal. Other banking businesses can be humming along, yet the subprime mess continues to taint the best-run banks.
There are some wild perceptions out there. Let us consider US Bancorp (NYSE:USB) and Bank of Nova Scotia (known in the marketplace as Scotiabank) (NYSE:BNS). Both banks are of similar size. US Bancorp has assets of $227.6 billion; Scotiabank $227.1 billion. Market capitalizations are similar, too: $54.7 billion for US Bancorp; $49.5 billion for Scotiabank.
Wall Street has also placed a similar PE on the banking companies. US Bancorp's PE sits at 12.44, while Scotia's is 12.59.
On the surface, this seems normal -- banks of similar size, which are trading down this year, are weathering similar market performance. There's only one problem: Scotiabank is growing like a weed and US Bancorp is in decline. Specifically, net income is 10.3% higher at Scotiabank in the year ending Oct. 31 to $6.8 billion. US Bancorp's net income declined 4.9% in the nine months ending Sept. 30 to $3.4 billion.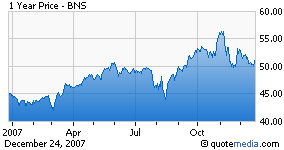 I would argue that Scotiabank has one of the most dynamic banking strategies today. It is a true national/international play. The bank is bolstering its position in Canada and in the U.S., developing new business lines and actively seeking out acquisition targets.
Internationally, BNS is seeking growth in emerging markets where it can offer a true step-up of services over local banking enterprises. These are off-the-beaten-track markets like Costa Rica, Jamaica, and Peru.
You would be hard-pressed to find a similarly dynamic business strategy at US Bancorp. US Bancorp is looking to payment services, wealth management, and securities services for growth. Deposits: down. Total loans: up a modest 3.8%. Allowance for loan losses: up.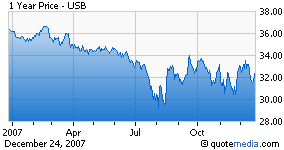 US Bancorp is framed as a "conservative, safe" bank, but what bank is "safe" today? It seems as though a big part of US Bancorp's allure is the fact that Warren Buffett is long USB.
Scotiabank, on the other hand, is lighting it up, on a number of different fronts, such as card revenue, deposit and payment services, and investment banking. I understand some investors may not look at Scotiabank's Dominican Republic banking operation with the most favorable eyes, but this is a $50 billion bank acting as nimble as any in the world.
Disclosure: none