I previously wrote about Hanesbrands (NYSE:HBI) as an example of stock and option manipulation running into options expiration. Not surprisingly, the same thing occured with Sally Beauty Holdings, Inc. (NYSE:SBH) this past Friday, December 21st.
What I've generally witnessed is that some of the under-followed $1B-$5B market capitalization companies lend themselves to easy manipulation by larger funds heading into option expiration.
These companies are large enough that funds with significant amounts of capital can invest in them without being major holders but the trading volume is low enough such that the actual amount of daily trading capital needed to pin or move the stock value is not very high. As with HBI, SBH released better than expected earnings during the final week of November, which led to the stock appreciating approximately 20%. As Chart I illustrates, over the next few weeks, SBH stock was kept at $10 and option premiums for the $10 strike expiring on December 21 increased considerably.
CHART I: SBH DAILY OHLC CHART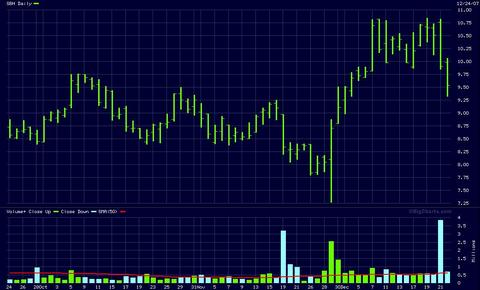 The real "excitement" came during the last hour of trading on Friday, December 21st when selling volume jump drove shares under the $10 strike price (Chart II). I suspect some funds may have sold calls for a hefty premium when the $10 calls were in the money and then sold SBH short to drive the premium's value to low levels (~$0.05 per contract), closing the call option positions (and possibly the short sale position) and pocketing a nice premium. SBH stock trades for just $8-$10 and daily trading volume is usually only 600k shares per day, making SBH an ideal play for this level of manipulation given the low amount of daily dollar volume traded, and thus needed to pin/move the stock.
CHART II: SBH Daily Trading