"We don't need contracts. Our customers stay because they love us".
On May 10, 2012 -- América Móvil (NYSE:AMX) issued a terse press release to the effect that its subsidiary Tracfone Wireless, Inc., has entered into an agreement to acquire 100% of the operations of Simple Mobile, Inc., one of T-Mobile's largest mobile virtual network MVNOs in the United States, that services over 1 million customers and offers, voice, messaging, data and wireless broadband plans.
América Móvil is, of course, the telecoms arm of Carlos Slim, the world's richest man, the Mexican Buffett. That we may know. But what is an MVNO?
A Mobile Virtual Network Operator is a wireless communications services provider that does not own the radio spectrum or wireless network infrastructure over which the MVNO provides services to its customers.
An MVNO enters into a business agreement with a mobile network operator to obtain bulk access to network services at wholesale rates, then sets retail prices independently. An MVNO may use its own customer service and billing support systems and its own customer service, marketing and sales personnel or it may employ the services of a Mobile Virtual Network Enabler.
MVNO models mean lower operational costs for mobile operators (billing, sales, customer service, marketing), help fight churn, grow average revenue per user by providing new applications and tariff plans.
The opportunity for mobile operators to take advantage of MVNOs generally outweighs the competitive threat. In other words, if you are a network operator (like AT&T (NYSE:T) or Verizon (NYSE:VZ)), it is more actually more profitable to sell wholesale space on your network than to have the hassle and expense of trying to increase your own clientele.
Simple Mobile plans feature no contract, nationwide coverage and the freedom to use your own phone. Simple Mobile is powered by the T-Mobile network, which claims the nation's largest 4G network. T-Mobile is a subsidiary of Deutsche Telekom (OTCQX:DTEGY)

Plans are advertised with catchy slogans, like B.Y.O.P. (Bring Your Own Phone) and B.Y.O.B. (bring your own Blackberry (RIMM)).
So far no B.Y.O.i. but the program can also be used with the Apple (NASDAQ:AAPL) iPhone if unlocked and/or out of contract at a price much cheaper than the plans offered by AT&T , Verizon , or Sprint (NYSE:S). However since a SIM card GSM phone is necessary, this may exclude iPhones originally sold by carriers that use different technologies .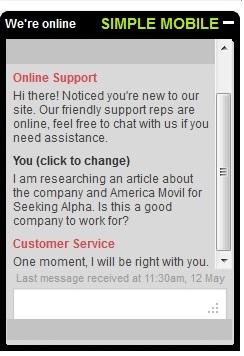 The plans are sold through the company's Web site and can be bought by mail. Visitors to the Web site are immediately approached by sales staff.
"The acquisition will add important new distribution channels for América Móvil and is likely the first step in a broadening strategy," wrote influential BTIG analyst Walter Piecyk, the analyst notorious for downgrading Apple, who also estimated that T-Mobile owns 30 percent of Simple Mobile, but will not block the transaction.
During a meeting at the CTIA Wireless trade show in New Orleans (before the América Móvil deal was announced), Simple Mobile's Senior Vice President of Marketing Tim Garrett said the company, which has recorded 2.5 million activations was in the process of expanding its marketing efforts from large markets like Miami and Los Angeles to smaller markets like Detroit, Washington D.C. and elsewhere.
América Móvil subsidiary Straight Talk also offers prepaid SIM card plans, so it is not immediately clear what the overall strategy to integrate the acquisition will be, but nevertheless with a recent bid for a large part of a Dutch Telecom it appears that the Mexican Buffett is aggressively reversing the Monroe Doctrine to extend its influence outside the Hispanic world.
The market cap is $96.5 billion, half the size of AT&T, but AT&T already owns a 25% stake in the company and seats on the board. The Slim family trust has a controlling interest.
Recently the AMX ADR shares have been quite volatile, jumping 5% one day on news of a regulatory victory, then dropping 7% the very next day as the market showed its disapproval of the Dutch takeover bid, but a judicious buy on the dips should prove to be a sound long term investment and might be a very big winner, especially if we see a secular trend away from expensive post paid phone contract towards a more freewheeling pay-as-you go ethos which AMX seems to be well positioned to exploit.