My prediction for 2008 is that I will continue to try to be both prepared and disciplined enough to profit from investing in the opportunities created by the disappointment of the predictions of others.
I am not a big fan of market predictions. No one can tell the future and if they could, they would likely not be writing financial articles, or keeping blogs.
Predictions are often fun to read, but generally, the author is making a guess about the future. Investing in guesses is not a solid plan for making money. Further, investing in guesses implies that being right is more important than making money.
Let us suppose that in December of 2006 you predicted that financials were going to fall sharply in 2007. Despite the fact that you were right, how did guarantee that you timed your trading correctly? If you shorted the Financial ETF (NYSEARCA:XLF) from January 2, 2006 until now, you made almost 20% on the trade, but you had to be patient enough to wait six and a half months. If you shorted Citigroup (NYSE:C) over the same time, you made over 40%, but, again, you had to wait. However, if you shorted Goldman Sachs (NYSE:GS), you had to sit and ride out a 10% and a 15% loss as the stock rose before you were "right" and the stock fell over 20%. I hope you got out there though, because the volatile stock is now 35% above that low. If you shorted Schwab (NYSE:SCHW), or TD Ameritrade (NASDAQ:AMTD), you lost big as they each rose over 20% so far in 2007.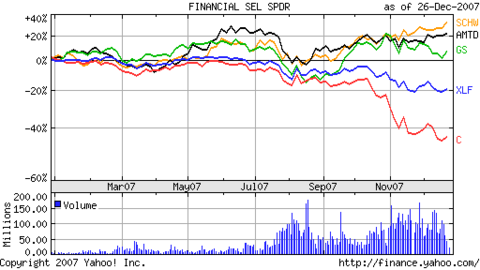 What if you predicted that the consumer would collapse in 2007 (a prediction I hear almost every year)? I hope you picked the right credit card to short. American Express (NYSE:AXP) was down about 14%, but Master Card (NYSE:MA), was up over 100%.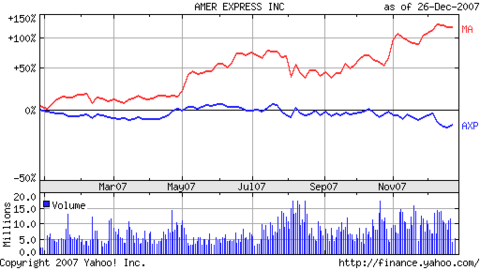 How about the big retailers? If you shorted Wal-Mart (NYSE:WMT), you had to sit through a 10% loss before the stock dropped giving you a 10% gain. Right now, the stock has rebounded and looks to end the year higher. Target (NYSE:TGT) had over a 10% rise you had to wait painfully through as a short before the stock finally dropped to a less than 10% loss for the year.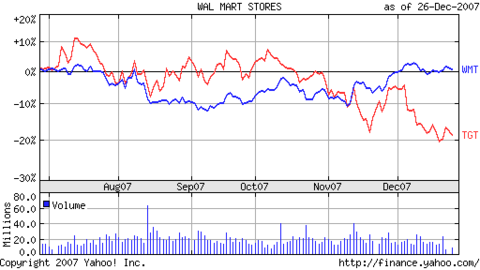 Some may say we make a prediction every time we buy or sell a stock. Perhaps, but for my investing strategy, I am more of a long term, bottoms up stock picker. I usually buy and sell in partial positions. I rarely make a big bet. I generally find stocks that I determine have strong managements and wait to buy them when I feel they are at bargain prices. My prediction is that this strategy will continue to be profitable.


Disclosure: Long GS