It's been an exciting run since January of 2003 for many of us. The S&P has seen tremendous growth (better than any CD, that's for sure). Retailers such as Best Buy (NYSE:BBY) have also enjoyed phenomenal growth over the same period. However, ladies and gentlemen, the gig is up. Short BBY now, while it's above $50. My price target is $45.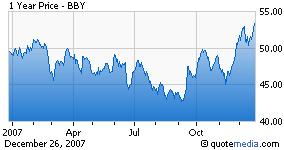 On the technical side, Best Buy has seen its price appreciate from ~$16 to ~$60 in just under 3.5 years. Viewing the 10 year monthly candles we see BBY formed a double top in 2006 and has been rapidly approaching that level in recent months. Bulls could show the support levels at ~$43 as evidence of strength but the top has formed with a bolder stance of resistance, relatively.
On the fundamental side, Best Buy has performed fairly well, especially as competitors such as Circuit City (NYSE:CC) have fallen in overall corporate and in-store quality. While BBY holds a relatively strong position in their industry, general economic conditions do not bode well for this company or its shareholders. In the short term I expect retail figures to come in much worse than anticipated. There were several weather-related shopping blackouts in December. Combine that with a faltering U.S dollar (many of BBY's products come from abroad), increasing fuel expenses negatively impacting both businesses and consumers, the housing depression (yes, I said depression), frozen credit markets which are slowly creating a squeeze on average households, and the accounting methods used with gift cards (detailed following this), and we are shown quite a negative outlook. My question to you is this.... are your glasses rose-colored or clear? If they're rose-colored now, wait until your account starts bleeding.... then you'll be seeing red all over.
Disclosure: The author's firm has a 150 share long position in BBY and he has no position personally