China stocks are overbought; a dangerous bubble is forming; sooner or later this market will crash.
That's what we hear again and again. So is there no fairly or undervalued stock left in China? Should we stop buying and start selling? I don't think so.
What we should do is what we have always done when looking for value stocks:
Look at the story, check the fundamentals, try to understand what will happen in the near future.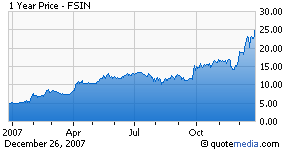 There is huge growth potential in China's national economy but there is also something beyond the mainland boom: China is going global. Dalian based Fushi International Inc. (NASDAQ:FSIN), China's biggest maker of copper clad wires used in a variety of telecommunication, automotive, utility and other industrial products, acquired their former U.S competitor Copperweld Bimetallics LLC in October. Just one month later they announced intent to invest $3.2 million in new machinery for their Copperweld facility in Fayetteville, Tennessee.
Notwithstanding the significant growth of its share price from $5 to $23 this stock is fundamentally not overbought. With ttm net earnings of $ 25.614 million and 25.17M O/S, the ttm EPS is $1.02 and the actual P/E is about 22.6, not high if you consider many Chinese tech stocks trading at 40 P/E. But more importantly, this company has shown a healthy growth each quarter and boasts a very attractive PEG ratio of 0.72 and a 2008 forward P/E of just 14.60.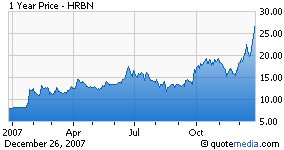 Harbin Electric (NASDAQ:HRBN), China's biggest and market dominating producer of linear motors, a specialty ranging from micro motors used in cars and medium sized motors used in power saving oil pumps up to maglev drives, has R&D agreements with Chinese and UK universities. The company had revenues of $23.64M in 2005, 40.42M in 2006 and 48.13M during the past 4 quarters with a net profit margin of 33.4%. With ttm EPS of $1.11 the stock's P/E is actually around 23 and its future appears bright.
Dutton Associates expects 2008 revenues of $118 million, rising to $220 million in 2009, with EPS of $1.78 and $3.16 respectively. Thus forward P/E for 2008 is just about 14.6 and for 2009 is about 8.2. A lot of room for further growth.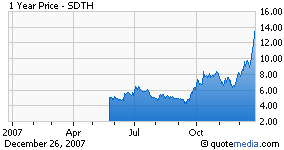 Another runner is ShengdaTech Inc. (OTC:SDTH), a leading producer of nano precipitated calcium carbonate [NPCC] and other chemical specialties. NPCC is used worldwide as a filler for tires, paints and other industrial products and the company has several patents for their method to produce these ultra fine particles. For the first time in 2006 the company reported revenues of $72.6M.
According to Yahoo the 2007 EPS is expected at $0.49 and the estimate for 2008 is $0.64, yielding a P/E of about 27 now and a forward P/E of 20. But chances are high that we will see a stronger earnings growth.
The Yahoo estimate is based on an EPS growth of 30% YoY (0.64/0.49), but for the past two quarters SDTH has shown an average YoY EPS growth of more than 50%. The company increased production capacity significantly during the first half of 2007 which makes a higher top line growth very probable. At the same time productivity (operating and net profit margin) increased continuously QoQ, so the bottom line should grow even faster. The operating margin increased from 22% in Q2/06 to 31% in Q3/2007 while the net profit margin increased from 22% to 29%. These numbers indicate that the Yahoo estimate may be overly conservative.
As Chinese become wealthier they want to travel more. This is the market where Universal Travel Group (UTVG.OB) is prospering through acquisitions and growth of its core business. The company started with revenues of about $10M in 2006 and shows impressive growth of revenue and net earnings. For Q3/2007 UTVG posted revenues of $12.8M, more than for the entire FY 2006 and 82% more than in Q2. Less than half of the revenue is due to the two acquisitions made in Q3, also the core business grew about 23% QoQ. The acquisitions have been immediately accretive and have cost investors extremely little in terms of dilution: O/S increased only 2.5% between Q2 and Q3 while the acquired companies contributed about 42% to the Q3 revenues. This is a sign of very smart, efficient and shareholder-friendly management. The stock dropped recently from its high of $5.72 down to below $3 thus offering a nice chance to get in relatively cheap. Even at $3.50 this stock is an attractive buy with a ttm P/E of 20.6 and a forward P/E (2008) of only 8.3. The strong growth expectation is also reflected in the low PEG ratio of 0.48. While the first three stocks appear to be more or less correctly valued for the time being with healthy upward potential, I expect UTVG to show a stronger pps increase during the next 6 months. Certainly the travel business will be strong around and during the Chinese Olympics so the previous all time high of $5.72 should be overtaken not later than March 2008 when the FY 2007 numbers will reveal ongoing strong growth of top and bottom line.
Disclosure: Author has a long position in some of the above-mentioned securities