Will someone please explain to me why Scripps (NYSE:SSP) is not a raging short? Much like my earlier call on some of the overpriced aspirational restaurants, i.e., P.F Chang's (NASDAQ:PFCB), The Cheesecake Factory (NASDAQ:CAKE), etc., that are concentrated in subprime-struck regions, Scripps strikes me as another company over-levered to subprime's toxic byproducts, and yet holding up past the point where it should be declining.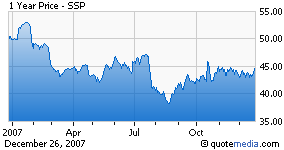 Consider: While the E.W. Scripps Company is a big, diversified media company, it does garner a very large share of its revenue -- and recent growth -- from lifestyle-related media products. Specifically, the Scripps-owned Scripps Network has Home & Garden Television [HGTV], Food Network, DIY Network [DIY], and Fine Living as television media properties. The Network, driven by these properties, contributed around 40% of E.W. Scripps's revenue last year, and much of its growth. Given that these bubble-channel properties must be seeing falling revenues -- and despite the car-crash fascination of unintentionally hilarious programming like "My House is Worth What?" -- it is baffling that the company's stock has held up.
How much longer can the disconnect persist? Am I missing something in my late-night puzzlement?