SeaDrill Ltd. (NYSE:SDRL) currently offers the highest dividend yield of any major offshore drilling company. At the time of writing, SeaDrill pays an annualized dividend of $3.20 which gives the stock an 8.74% yield. Here is how that compares to other major offshore drilling companies:
images

Source: International Hedges
As we can see, SeaDrill is by far the highest-yielding dividend stock in the group. One reason for this lies with the company's financial model which is somewhat different than its peers. Most dividend-paying companies set their dividends at a level that management expects to be sustainable over an extended period of time. SeaDrill's philosophy, on the other hand, is summed up quite well by a statement given on page 21 of the company's annual report, "Our primary objective is to profitably grow our business to increase long-term distributable cash flow per share to our shareholders." In effect, SeaDrill pays out a significant percentage of its operating cash flows to investors and finances its growth through debt. I discussed how this works in a previous article.
This business model has worked out quite well for SeaDrill and its stockholders. SeaDrill's fleet has grown rapidly since 2005. In that year, the company's fleet consisted of five rigs. Since that time, the company's fleet has grown to 62 rigs at the end of March 2012.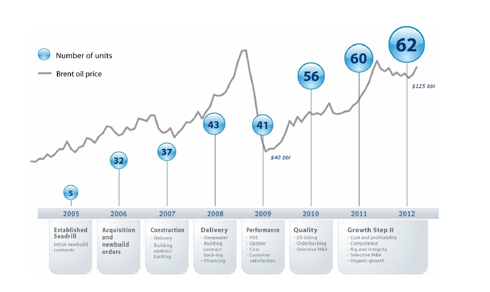 Source: SeaDrill Ltd.
Investors in the company have also been amply reward for their investment. SeaDrill began trading on the NYSE on April 15, 2010. However, the company began trading on the Oslo Børs exchange well before then. The company was listed on the exchange in 2005. Since that time, it has delivered a rather impressive run.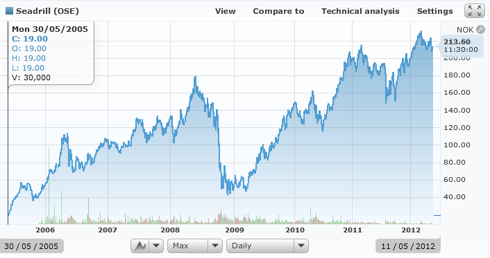 Source: SeaDrill Ltd.
SeaDrill has also delivered substantial rewards to its shareholders in the form of dividends over the years. The company began paying dividends in the fourth quarter of 2007 according to SeaDrill's website.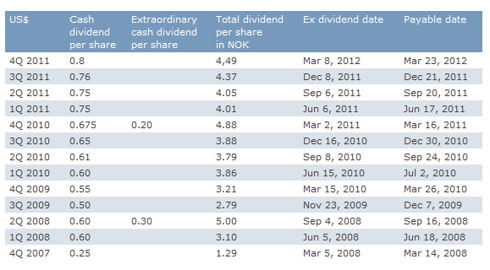 Source: SeaDrill Ltd.
The dividend has had significant volatility from year to year and even from quarter to quarter. This is because of the company's dividend philosophy which I mentioned earlier in this article. Essentially, the dividend tends to rise and fall with the company's operating cash flows.
It is because of this dividend philosophy that I believe that SeaDrill will increase its dividend going forward. SeaDrill generates most of its cash flows through the rigs that it manages. The company contracts out the rigs in its fleet to oil and gas companies to perform drilling operations in offshore locations all over the world. In exchange, the oil and gas companies pay a dayrate to SeaDrill for the use of these rigs.
The fundamentals for the offshore drilling industry are quite strong and getting stronger. In a recent article posted here on Seeking Alpha, I stated that dayrates are currently back up to the highest levels that were reached during the previous cycle. There is evidence that dayrates could climb even higher still. SeaDrill has 25 rigs that will be available to be contracted out between now and the end of 2014, excluding newbuilds, according to the company's most recent fleet status report. Nine of these units are ultra-deepwater floaters, per the company's fourth quarter press release. This is important because ultra-deepwater rigs carry the highest dayrates and the highest profits. As these rigs come off of their current contracts, SeaDrill should be able to obtain new contracts for these rigs at higher dayrates due to the prevailing tight market. This should increase the company's revenues and operating cash flows.
In addition to re-contracting out existing rigs, SeaDrill has a large newbuild program that is likely to increase the company's operating cash flows. SeaDrill has been on something of a building spree lately and has ordered four new rigs from shipyards since the beginning of April. The newly ordered rigs consist of one ultra-deepwater drillship, one new tender assist rig, and two ultra-deepwater semisubmersible rigs, one of which will belong to SeaDrill's 74%-owned subsidiary, North Atlantic Drilling (NATDF.PK). As SeaDrill stated on May 4, the company now has a total of eighteen rigs under construction. These rigs should significantly increase SeaDrill's operating cash flows upon leaving the shipyard. This is because these rigs will greatly increase the number of rigs that SeaDrill has contracted out and thus is able to generate revenues from.
SeaDrill looks very likely to increase its operating cash flows going forward. The combination of re-contracting out existing rigs at higher dayrates and fleet growth through newbuilds should ensure that SeaDrill will see strong growth in its cash flows through the current industry upcycle. As previously discussed, the company's philosophy is to return as much of its operating cash flows to investors as it reasonably can. Therefore, SeaDrill will likely boost its dividend even further going forward.
Disclosure: I am long SDRL.