Shares of coal producer Arch Coal Inc (ACI) are down 47% so far in 2012. While the price action in the stock continues to be weak, there are three reasons to consider ACI.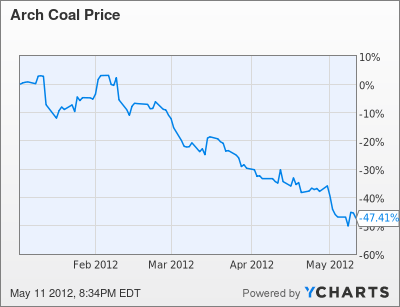 Natural Gas Price Rally
Natural gas prices are up nearly 20% over the past month. This is a very bullish development for coal companies, as the weak natural gas prices has led to weakness in the coal price. While natural gas prices have rallied, ACI has not rallied much at all.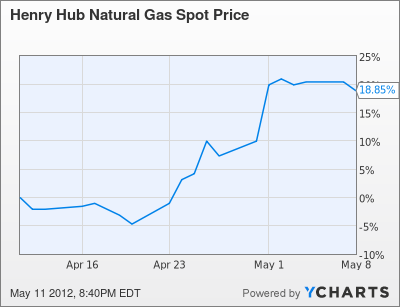 Arch Coal CEO John W. Eaves comments from Q1 conference call:
This scenario is likely to play out again over the course of 2012 and 2013 and there are five drivers that should combine to restore coal markets to help over the next two years.

The first is coal exports; we project that export capacity for U.S. coal should reach 270 million tons by 2016. This significant capacity increase includes port expansion along the East Coast and the Gulf region, particularly as the Panama Canal is expanded, as well as multiple projects moving forward on the West Coast.

The second driver is strong met markets. There is a positive momentum building for met demand. Global steel production rates ticked up higher in March and supply constraints out of Australia began setting a price forward. Over the next five years, we believe the met markets will remain undersupplied, with normal cyclical volatility. We also believe that U.S. companies like Arch can play even greater role in overseas met markets, because costs are rising to bring on new met production in Australia, Mongolia and Mozambique.

The third driver that will help fix coal markets is rationalization of supply. We believe that we are in the midst of a dramatic restructuring of domestic thermal supply, whereby some players will exit the market and others, like Arch, will pare back operations until market conditions improve. As suppliers shut in or more diverted into the met and export markets, the domestic market will again become undersupplied, and that undersupply condition will become apparent, as power demand reasserts itself.

Fourth is a correction in natural gas base. We don't believe sub $2 gas prices are sustainable, but like the coal industry, the natural gas industry needs time to self-correct. Declining productivity in shale plays reduced gas directed drilling and more rational players in this space seem likely to emerge over time.

And lastly, we expect U.S. power demand to grow. Weather does revert to the main, and the U.S. economy is starting to recover with manufacturing, chemicals and fertilizer sectors leading the way. All these factors will be good for the power demand, our industry and our company.
While a CEO will always paint a rosy picture, I believe these comments are worth listening to. If nothing else, these comments indicate that there is a light at the end of the tunnel.
Short Interest
Short interest in ACI currently stands at 42.17 million shares or 26% of the shares outstanding. This high short interest represents a possibility for a squeeze higher if any positive news comes out on ACI. Even if there is not much good news, at some point, short sellers will likely cover their shorts to lock in gains.
Risks
One significant risk facing ACI is its heavy debt load. Currently, ACI has over $4 billion in debt. This number is even more important, considering the company only has an equity value of $1.7 billion. If business remains weak, ACI may become financially stressed.
Conclusion
With shares down nearly 50% so far in 2012, it might be time to consider speculating in ACI. The recent rally in natural gas prices, CEO comments, and high short interest all point to possible upside in ACI. However, investors should view ACI as a speculating only due to the high debt load.
Disclosure: I have no positions in any stocks mentioned, and no plans to initiate any positions within the next 72 hours.