Qualcomm (NASDAQ:QCOM) is a $106 billion large-cap leader in the communications equipment industry of the technology sector. The company is experiencing success with sales of 3-G and 4-G-enabled devices. It reported record revenues and EPS for Q2 FY12. Revenue for the quarter was $4.94 billion which was a 27.7% increase over Q2 FY 11. Earnings per share increased 123% year over year to $1.01.
Approximately 787 million to 803 million 3G/4G devices were shipped by Qualcomm in 2011, a 21% increase year-over-year. The company is projecting that it will ship between 885 million to 945 million 3G/4G devices in calendar 2012 for a 15% gain year-over-year. These projections are based on strong demand for smartphones in developed and emerging markets.
Qualcomm has been having trouble keeping up with demand for its 28 nanometer products. However, the company stated that it will have significantly improved the supply issue by the December quarter. This looks like a good problem to have for the long-term. Although Qualcomm may take a hit to its revenue and earnings this year with respect to potential 28 nanometer sales, the improved supply situation should benefit the company in fiscal 2013.
The company's Snapdragon shipments have increased 70% year-over-year. Over 370 Snapdragon based devices currently exist, with over 400 more in design.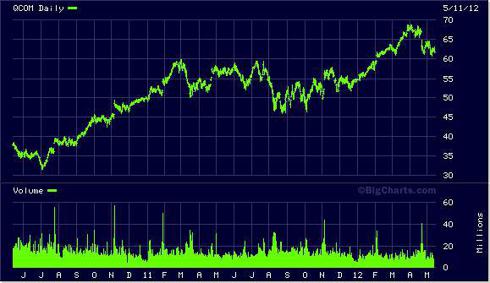 Qualcomm is fairly valued, but on the lower end of the valuation scale. It has a forward PE ratio of 14.8, a PEG of 1.06, and a price to book ratio of 3.35. The stock price has grown approximately in line with earnings which are reflected in these figures.
Profitability is on the high end with a profit margin of 32.96% and an operating margin of 32.35%. The company has operating cash flow of $6.75 billion and free cash flow of $4.07 billion. Shareholders are rewarded with a 1.6% dividend. About 42% of free cash flow is paid out as dividends, while the other 58% is used to grow the business.
The balance sheet looks stellar as well. Total cash is a heaping $15.08 billion with only $1.18 billion in debt. Qualcomm has 3.45 times more current assets than current liabilities.
Qualcomm has grown earnings annually at 14.13% for the past five years and is expected to grow earnings annually at 15.48% for the next five years. This growth should allow the current stock price of $61 to grow to about $125 in five years. When factoring in the dividends for a total CAGR of 17.08%, a $1000 investment in QCOM should grow to be worth about $2200 in five years. If you want to more than double your money in five years, Qualcomm looks like a good stock as part of a balanced portfolio to help reach that goal.
Disclosure: Although I don't own QCOM individually, I do have a position as part of a fund in my retirement account.