Let's start with the bad news. Tesla (NASDAQ:TSLA) missed on revenue and earnings estimates. Tesla reported a loss of 86c/share on revenues of $30 million. Last quarter, Tesla got a lift from announcements of deals to supply Toyota (NYSE:TM) and Diamler (OTCPK:DDAIF) with drivetrains for future models. So Toyota's very disappointing RAV4 EV announcement caused Tesla stock to take a hit. Toyota only plans to sell 2600 of them over 3 years and only in California. Also, they are priced at nearly $50,000 - a $20,000 premium over a well-equipped gas RAV4.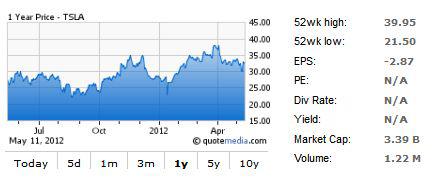 Now on to the good news. Tesla says it will deliver the Model S a month earlier than estimated. This is contrary to the norm for even big car companies as far as electrics go. See Volt Delay, Focus Electric Delay, Nissan Leaf Delay. And if you follow Tesla, you definitely know about all the delays at its competitor Fisker. So if Tesla does actually start deliveries next month, I also believe it will make its now raised annual revenue guidance of $560 million.
Tesla plans on delivering about 5,000 Model S cars this year, after which it plans on producing 20,000 Model S cars per year. In 2014, Tesla plans to deliver its next car, the Model X, and also an updated Roadster. Part of Tesla's revenue drop can be attributed to the end of Roadster production.
Only the more expensive Model S is scheduled to be delivered this year. So just Model S alone will account for a majority (80% or more) of the $560 million revenue. Tesla has a few remaining Roadsters and they will account for a quarter of the remaining (5%). I expect Toyota and Diamler deals- along with people who paid for more options on the top end model S- to account for the rest.
So far Tesla has been on track to deliver everything promised on time. The Tesla models are stylish and priced to compete with other gas burning cars in the same luxury segment and completely designed and made in America.
There is also the possibility of more deals with other auto makers because so far Tesla, in my opinion, has the most superior EV technology amongst the ones currently on the market. On the flip side, the Diamler deal could turn out to be a similar short-term bust as the Toyota deal. In either case, even just on its own only making Tesla branded cars, I expect Tesla to do well long-term.
I am of the opinion that Tesla is likely to achieve profitability in 2013.
Summary: Buy.
Disclosure: I am long TSLA.