"Bullish trend persists in KSE, index further up 23pts," headlined Zafar Ahmad of The Post yesterday morning from Karachi, Pakistan. "Bullish trend continued at the Karachi Stock Market as the 100-index moved further to 15,000 points barrier, only 185 points short of the coveted figure," read the subhead.
The Karachi Stock Exchange's 100-index had moved to 14,814.85 points on Wednesday, up from Monday's 14791.92 — only 185 points short of setting a new all-time record at 15,000 points.
The article continues:
Stock analysts were fully confident that the coveted figures would be attained during this week and that will be a new record of shares trading in the history of Karachi Stock Market. (…) Foreign investors were also back in the playing field and the surpassing of the 15,000 points barrier was now a matter of any moment. That will be a new record for the shares market.
Well, it looks like giddy analysts may have to go back to the drawing board.
The Karachi Stock Exchange took a nose dive yesterday as news hit that Pakistan opposition leader and former Prime Minister Benazir Bhutto was assassinated at a campaign rally, in a suicide attack that also killed at least 20 others. While supporters were quick to blame her political opponent, President Pervez Musharraf, the attack has all the hallmarks of the same fundamentalist Islamic terrorists that have been gunning for him as well over the past few years.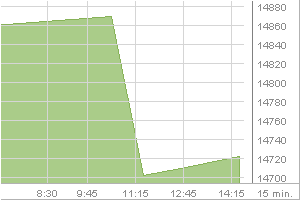 Pakistan investors may forget about reaching the 15,000 mark any time soon. Because more likely than not, the Pakistani stock markets will experience a strong sell-off over the next days, as international funds and investors are selling shares in anticipation of civil unrest, violence in the streets, maybe even a coup attempt or the re-establishing of martial law in Pakistan.
The only saving grace in this scenario is that, due to the extended holidays in the West and the associated low trading volumes, the negative fall-out caused by American, Australian, and European funds may be limited.
Still, there is a tried and true rule for crisis investing.
In the case of a catastrophic event in an emerging market — and the Bhutto assassination has all the characteristics of one — keep your eyes on a country's ADRs. Buy those that dip most in the immediate aftermath (three to four days) as a speculation on a rebound as things go back to normal.
American investors have a limited selection of Pakistani ADRs that they can play in this case. There are electricity provider Hub Power Co. (PINK:HUPOF) ($13), top Pakistani banks MCB Bank Ltd. (PINK:MCBBI) ($27.75) and United Bank Ltd. (PINK:UDBKL) ($11.86), Oil & Gas Development Co. Ltd. (PINK:ODVCI) ($20.56), and already battered telecommunications giant Pakistan Telecommunication Co. Ltd. (OTC:PKTMF) ($73).
None of these ADRs has yet reflected yesterday's act of terror in its share price. But they will. Monitor these stocks closely — and buy the one that has dropped the most by January 2.