Background
Peter Lynch's bestselling One Up On Wall Street famously advocated investing in businesses whose success one understood from one's own observations walking around. So when I was introduced to an Activision Blizzard (NASDAQ:ATVI) property recently by an eight-year-old, I couldn't ignore what I was seeing.
It was during the "Invention Expo" of a class of kids between the first and third grades, and every one had a three-part folding presentation kiosk and a mock-up of the invention. My own child was presenting a proposed infant mammal incubator, complete with an on/off switch, a thermostat, control for setting feeding times, and a table indicating the temperatures required for different types of infant mammals. If only these and other major features had made it into the product pitch, I was sure the thing would been the hit of the expo. Alas, politely nodding onlookers hardly noticed.
Attending the expo, I was accosted by other first, second, and third graders who wanted to show me a dazzlingly varied array of imaginary gadgets whose utility and novelty (and plausibility) was in grave doubt. Among the most initially incomprehensible was the presentation for "a new Skylander."
I was lost from the word "go": the kid wasn't able to explain what a skylander was, other than that it was some kind of video game character. I was too caught up in the fact that it sounded like he wanted a copyright rather than a patent to want to follow what he had to say about the beast's wings and crest. But every kid was armed with a pitch, including a description of the problem he was trying to solve. This kid's "problem"?
People want a new Skylander.
What Is A Skylander and Why Should You Care?
Announced barely more than a year ago and launched only just this past fall, Activision's Skylander is a multi-platform game whose players take the form of one of a variety of "Skylanders" -- each sold separately. (Or in double or triple packs!) To play from the perspective of the Ignitor (which has the most strength), you need to buy the toy. Or you can be the Stealth Elf (agility). Or another of the ~30 characters. The genius of this scam design should be immediately apparent: to get the most out of the game and to enjoy everything it offers, players have an incentive to buy every last tie-in toy. As of this writing, Activision has sold over 30 million of the things since the game launched less than a year ago.
The stickiness of the toy line's products have driven it past the sales of Star Wars figures. Star wars is (was?) the #1 line of action figures. But once you have Darth Vader and one or both of Han and Luke, what's left you can't live without? A ship or two? And who will keep buying them as the movie releases fade into memory? And why does a fan of a Star Wars video game necessarily need action figures? Activision has this licked with the game plug-in. Activision always holds the possibility that another title will have entirely new characters to advance the latest plot.
Do you have kids? Beware!
Activision's Business
You probably have heard of World of Warcraft. This massively multiplayer online roleplaying game ("MMORPG") has millions of users who pay for the privilege of living (and "dying") in Activision's virtual world of Warcraft. Revenue doesn't stop at the date a player begins, and online quests involving teams of players create a game dynamic that one can't replicate without the multiplayer experience. As of 1Q2012, it's still the #1 subscription-based MMORPG in the world. Falling subscriber numbers appear to have stabilized, so $15/month in membership fees currently flow from about 10.2m customers. An expansion pack called "Mists of Pandaria" is in beta and will launch later in the year to maintain and (the company hopes) grow user interest.
Call of Duty: Modern Warfare 3 customers logged 1.6 billion hours of game play through March 31, with approximately 40 million active monthly subscribers. Launched in November, the title broke retail records to rake in $775m in sales within the first five days of release. Downloadable content such as additional map packs provide ongoing revenue and maintain interest from customers wanting more of the same, but different.
Driven by sales of its tie-in toys, Activision's nascent Skylanders Spyro's Adventures is the #3 best-selling game by revenue across all platforms. The launch of Activision's first Skylander title isn't the last: in 2Q2012 Activision launched Skylanders Cloud Patrol, an entirely new game. Since the Skylander franchise targets young children, it opens to Activision a market previously unavailable and raises the possibility of creating early on a customer base that will stay with the company for many years, across numerous releases (and different games).
A new title, Diablo III, will launch this week as a $60 shrinkwrap title. It is the most pre-ordered game of all time. Related books will be released with the game. In-game property will be available for purchase with real-world money. Players on quests can have several AI "followers", and stand-alone game play is available. As a multiplayer game, one-on-one dueling will be available among consenting parties and up to four characters can adventure together. "Boss" opponents require multiple players to defeat.
Games based on Battleship and Spider-Man are expected to be released over the current quarter for Sony's (NYSE:SNE) PlayStation3, Microsoft's (NASDAQ:MSFT) XBox 360, and Nintendo's (OTCPK:NTDOY) Wii, Nintendo DS, and Nintendo 3DS.
Activision: The Numbers
Activision raised its dividend 9% from last year's to $0.18 per share, and repurchased 22 million shares for $261 million (averaging under $12/share). The company expects to take in $950m in revenue over 2Q2012, earning $0.13 per share over the quarter. Management's full-year 2012 projection is $4.2B in revenue for earnings of 65¢ per share. At about $13 a share, this represents a P/E of 20.
By comparison, Activision's largest rival is Electronic Arts (NASDAQ:EA), which estimates earnings of $1.05 to $1.20 per share over the year on revenues which, at $4.3B, are just slightly ahead of Activision's annual estimate. At $14.57, Electronic Arts trades at something much closer to 14x its estimated annual earnings than to Activision's 20x. However, its earnings are much more volatile: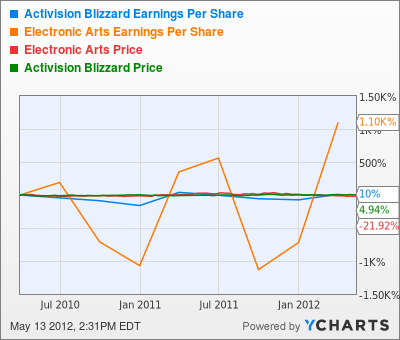 By comparison to Activision, Electronic Arts is an earnings rollercoaster. Moreover, its shares are still recovering from a shock to its annual outlook and its Star Wars property (another MMORPG), which lost a quarter of its entire subscriber base over the last the quarter.
Sitting on just over $3B in cash, Activision can afford to invest in developing the content that drives its sales, and the 600 jobs cut last quarter reportedly won't slow this week's Diablo III launch. Since the end of the recession, the company's stock hasn't moved much despite the combination of share buybacks and growing cash and short-term investments. The cash spent last year in the Skylander rollout was made back pretty quickly: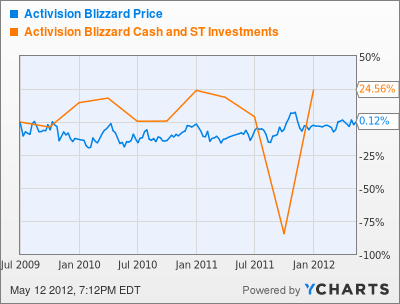 The long-term investor wants to know about the company's long-term performance, better to assess the company's outlook over the years yet to come. Ignoring the effect of share buybacks and looking only at the firm, free cash flow has a strong holiday-driven seasonality: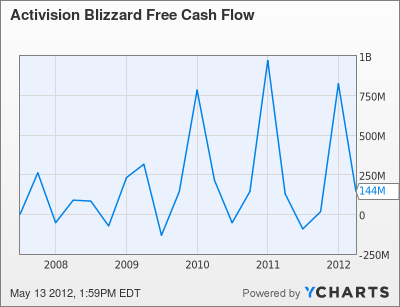 GAAP earnings per share also shows seasonality, albeit offset from the seasonal rhythm of Activision's cash: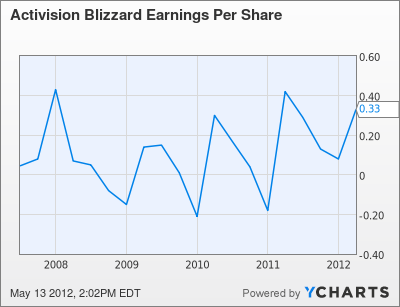 Conclusion
The question for investors is whether the company's P/E is justified by the fact that Activision is in the process of stretching its target market from teens and adults wanting a virtual world in which to maraud with impunity and into kids who want to participate in an adventure penned by co-authors of Toy Story. Investors whose walking-around knowledge leads them to believe the Pokémon-looking creatures in Activision's new property will sell like Pokémon (the game comes with trading cards) may well take an extremely bullish view on the fortunes of Activision. Investors with confidence that a world going online will grow Activision's addressable market for online games (online revenues were over a third of Activision's latest revenues) may take a similar approach. Activision renewed its license for online distribution in China again, and China's middle class now exceeds the entire population of the United States.
Although this author is still building knowledge of the company in order to develop the sort of independent understanding advocated by Peter Lynch, investors with a closer view on the major trends impacting Activision's business - attractiveness of the kids' game and its tie-ins to youths of various ages, the movement of the worldwide population online, the stickiness of MMORPGs - may have the conviction needed to pull the trigger.
Disclosure: I have no positions in any stocks mentioned, and no plans to initiate any positions within the next 72 hours.