"I don't compare 'em, I just catch 'em." - Willie Mays
On March 23, I put out a piece here on SeekingAlpha titled "Lumber and the Spring Switch of 2012" in which I noted that there was some weakness setting into the performance of lumber stocks despite strong homebuilder performance and lumber prices themselves nearing $300. At the end of the writing, I stated that "the potential remains high for a real and sustained outperformance period for all things wood-related."
Hindsight of course is 20/20, and while I was correct in noting that underperformance was then just starting to kick in, I did not think it would send the relationship of lumber stocks to the S&P 500 all the way back to ratio lows. Take a look below at the updated price ratio chart of the Guggenheim Timber ETF (NYSEARCA:CUT) relative to the S&P 500 (NYSEARCA:IVV). As a reminder, a rising price ratio means the numerator/CUT is outperforming (up more/down less) the denominator/IVV.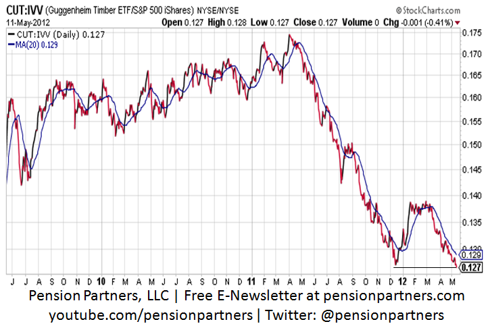 When I first wrote the article, the ratio was just starting to turn lower. Two months later, and here we are back at the mid-December ratio support level lows. Much of this recent weakness appears to be tied to softening jobs growth in the U.S., renewed concerns over a China slowdown, and general fear over what happens next in Europe. The trend of weakness certainly remains negative for now, but lumber stocks could still be a powerful long play at some point later this year given how poorly the group has performed. The question of course is if the relative weakness of the last two months is a warning sign that housing is not yet at a moment of escape velocity. The next few weeks should provide clarity, particularly if the ratio support level gets broken. Perhaps whenever the Spring Switch out of bonds and into stocks finally gets flipped will a real uptrend emerge.
Disclosure: I have no positions in any stocks mentioned, and no plans to initiate any positions within the next 72 hours.
Additional disclosure: Pension Partners, LLC, and/or its clients may hold positions in securities mentioned in this article at time of writing.