Telefonica's (NYSE:TEF) Q1 results should frustrate most investors. At the stock's current quotation, all that the company needs is stability and consistency in order to reassure shareholders, but Q1 delivered the exact opposite. Indeed, reported earnings actually fell, and the company continues to experiment with high growth strategies in Latin America, while tinkering with marketing in its own home turf, Spain.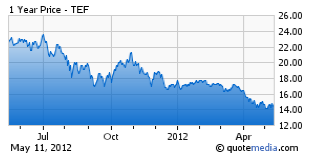 Beginning with the worst news, Telefonica continued, not surprisingly, to see weakness in European markets (Germany being a nice exception; Spain being the worst of the bunch). The company's current flagship product is mobile, which is heavily dependent on customers' willingness to spend on data plans and pricier smartphones.
In a daring move, even amid - or perhaps because of - weakness in the mobile market, the company dropped subsidies for iPhones in Spain. Fortunately, it looks like its competitors are following suit. The company admits that it lost some business from the move, but it hopes that it will increase its position in the long run as the market reenters a steady state. Whether or not the decline will cease remains to be seen.
This daring move complements the company's overall strategy to invest in eliminating customer churn. Again frustratingly though, many initiatives aimed at decreasing churn have resulted in temporary bumps for the company's growth strategy. So while churn is falling, growth is becoming mildly erratic too. According to the company's Chief Financial and Corporate Development Officer, Ángel Vilá Boix:
The economical model in terms of getting churn down and retaining high-value added customers and putting the focus of our loyalty programs and subsidies effort on existing customers, which are the most valuable one, is starting to get some traction. And we are starting to have some churn indicators that looks like we're going to the right direction...
So while promising, the initiative is not mature enough to feature positively in the quarter's results.
The bright spot for Telefonica is of course its Latin American operations. Nonetheless, this region also presents challenges. Inflation, and particularly wage growth, appear to be outpacing the company's revenue figures. Again here, the company expects wage growth to stall and costs to remain stable, but there is no true certainty as to how this will play out.
Critically, the company was able to refinance all debt with 2012 maturities and even made headway on its 2013 maturities - and this in spite of the turbulent markets in Spain. Overall, this is an extremely good sign for the company. Additionally, it has affirmed its commitment to lower its overall debt level and maintain its investment level credit rating. On the negative end of the spectrum, the current ratio is still somewhat uncomfortably lower than 1. And, according to company Q1 financials, effective interest cost also rose from 4.91% to 5.23%. It's a small change, but nonetheless one to watch closely.
The bottom line is, the company is not out of the woods yet. Rather than play it safe, the company is attempting to experiment with new ideas, which may or may not pan out in the long run. On the one hand, the company deserves praise for continuing to innovate under a cloud of uncertainty. On the other hand, with instability in Europe and Spain at historic highs, costly attempts at innovation can be unnerving.
For shareholders, Telefonica is still a game of wait and see. The company has issued bold guidance in many areas ranging from financing to cost control to customer retention. Effective delivery of these promises remains to be seen. Stay tuned for Q2.
Disclosure: I am long TEF.