This past week, Teva Pharmaceutical Industries (NYSE:TEVA) announced first quarter 2012 results. Headlines decried the results as "disappointing." Analyst reactions to this quarterly report and subsequent downgrades reflect nothing less than analyst myopia. There was some fixation on what is characterized as weak Copaxone sales and softness in European sales. What did the analysts have to complain about?
· Profit rose 13% on higher sales
· Sales rose 25%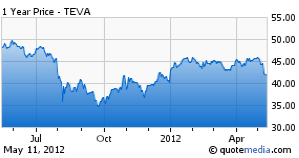 Teva is the world's largest generic drug manufacturer by sales and is expanding into the branded proprietary drug market. To build out its branded product line, Teva recently purchased Cephalon (NASDAQ:CEPH) for $6.5 billion. The company is also in the midst of a leadership change. Shlomo Yanai left the CEO position as of May 9th and was replaced by Jeremy Levin, a respected industry veteran coming out of Bristol-Myers Squibb (NYSE:BMY).
One reason for the gloomy reaction to Teva's first quarter results is that Levin refused to confirm prior guidance. This prudence should be rewarded by the market rather than punished. Levin was not on the job even one day when he was asked. I do not think it too much to ask to give Levin time to conduct a review of operations. Prior guidance from the company reflected adjusted EPS in the $5.48 to $5.68 range, excluding various items.
Earnings rose to $859 million, or $0.97 per share, from $761 million or $0.84 per share, a year earlier and $0.57 in 4Q11. Analyst forecasts for FY2012 range from a low of $5.42 to a high of $5.74. The average estimate, or consensus, is $5.61. Analysts expect EPS to grow in FY13 to $5.61 to $6.32, with an average estimate of $6.32. Looking out to FY14, analysts forecast an average EPS of $6.42.
Despite pricing and sales pressure in Europe, Teva sales rose 25% to $5,102 million in 1Q12 from $4,080 million in the year-ago quarter. However, it was down from 4Q11's sales of $5,676.0 million. Teva attributed this decline to renegotiated distribution agreements for branded drugs. The company ascribed a decline of $180 million to the changed agreements.
When evaluating the risks associated with investing in a company based in Israel, one always needs to ask what effect regional instability may have on corporate operations. There are two parts to this question. The first part looks at the macro level impact a regional war might have on the global economy. The second facet is company specific risks.
Short of a nuclear conflagration, a regional war would be disruptive but not disastrous to the Israeli economy. The country is resilient and adaptive. History shows that in spite of 10 wars in the last 64 years, people go to work each day and children go to school. Surveys show that Israelis are among the happiest populations.
Company specific risk is another matter. Teva is a good example of exaggerated risks associated with the large Israeli companies. Of the $5,102 million in 1Q12 revenues, the U.S. accounted for $2.8 billion, representing 54% of total revenues. Sales to Eastern Europe and Latin America totaled another $1.0 billion. Additionally, production facilities are worldwide. Teva has direct operations in some 60 countries, including 40 finished pharmaceutical manufacturing sites in 19 countries, 28 R&D centers and 21 API manufacturing sites.

Sales growth is attributed to the inclusion of Cephalon branded products and a change in distribution rights for Copaxone. Teva took back from Sanofi (NYSE:SNY) distribution and marketing rights in the European Union states. Global revenue for Copaxone rose 4% to $909 million from $838 million in the first quarter of 2011. Azilect revenue rose 9% to $72 million.
Notwithstanding the positive growth trends for sales and net income, the company does face several obstacles. We are seeing gross margins shrink to 51.4%, below the five year average of 53.4%. We also see operating margins decrease to 16.4% from 17.0% in FY11 and below the five year of 18.3%. Teva also carries a meaningful debt load. Long term debt is well covered by cash flow so there is little risk from this point of view and the payout ratio of 30.7% is prudent.
Teva will distribute a cash dividend on June 1st of NIS 1.00 (about $0.27). The indicated dividend is about $0.97 per share for a current yield of 2.3%. The five year average dividend yield is about 1.44%. The disparity between the current yield and the average yield is suggestive of undervaluation.
The short term argument against Teva is based on weakness in the European market. Europe is in turmoil and austerity measures being imposed continent-wide will impact government paid healthcare systems. Simply speaking, to save money the Europeans will cut back on acquiring even generic drugs for their populations. Some analysts expected better sales for the MS treatment Copaxone and anticipate a possible generic version within the next 2-3 years. The other big question concerns uncertainty over Copaxone. Teva is battling Mylan (NASDAQ:MYL) and others for exclusivity through 2015.
Looking long term, Teva has more than 70 new drugs in development, mostly through the acquisition of Cephalon. The company recently announced that it has started selling Irbesartan and irbesarten-hydrochlorothiazide tablets, a generic version of Sanofi-Aventis' high blood pressure drugs, Avapro and Avalide tablets. Teva also has exclusivity to market the generic sleep-disorder drug Provigil for six months.
Losing exclusivity to Copaxone would have a dramatic, though not catastrophic, effect on Teva's cash flow. Underlying the company is a product line of more than 1,300 generic drugs sold worldwide. Though margins are thin on generics, Teva is well positioned to maintain its lead. Teva also has the capacity to exploit the patent cliffs facing the branded pharmaceutical companies. They have the know-how to manufacture biosimilars made from living cells.
We have two target prices for Teva. The first, $51.60, is our estimation for the next 12-18 months. We think that once the legal battle with Mylan is over, Teva's share will get a boost. Further out, perhaps 3-5 years, we see fair value at about $57.30. I note that analyst price target estimates range from $42 - $65 with an average target of value of $51.88 and a median target of $53.00.
Disclosure: I am long TEVA.