Take Two Interactive (NASDAQ:TTWO) saw its shares slide last week after announcing the delayed release of Bioshock Infinite. Shares slid back down to $12.61 by the end of Friday. The third video game in the popular Bioshock series will now be released in February of 2013, versus a prior announced October of 2012. The game is being delayed to change the storyline and make sure the game is 100% ready for a launch.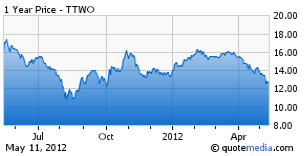 The video game maker is no stranger to seeing its share price decline due to delayed game releases. The company, which is the maker of the Grand Theft Auto series, has delayed several games including: Red Dead Redemption, Grand Theft Auto IV, and L.A. Noire.
Max Payne 3 will be released on Tuesday, May 15th. The game continues to sell well with pre-orders. On Amazon, the game is listed as number 3 (XBOX 360), and number 6 (Playstation 3) currently. In December, I predicted that Max Payne 3 would be one of the bestselling video games in 2012. My predicted total of 2.5 million copies seem well within reach for this third game put out by Take Two Interactive. Shares could see a nice run-up during Monday and Tuesday's trading sessions based on reviews, ratings, and sales figures of this highly anticipated game. While the headlines will be dominated by Diablo III, which also releases the same day, Take Two Interactive could quietly sell a half million copies in the first week.
Take Two, through its wholly owned subsidiary Rockstar, is also creating a Rockstar DLC content pass. The pass, which will have a price tag of $29.99, will give users full access to all add-ons throughout the year. New maps, modes, items, and characters will be released throughout the year for Rockstar Games. The content pass is the cheapest and easiest way to ensure that all the downloadable content is captured. A tentative schedule for Max Payne 3 sees new maps and content being released in June, Summer, and Fall.
The Max Payne brand was also recently added to Apple (NASDAQ:AAPL) products. A mobile version of the game is playable on the iPhone, iPad, and iPod Touch. The Max Payne games have been praised for storytelling and gameplay and the mobile version is likely to translate well to the mobile version. The game sells for $2.99 on all the platforms. The company could also begin selling the game on Android (NASDAQ:GOOG) platforms to bring in some additional revenue as well.
Take Two was one of several companies that I pointed out as being negatively impacted from the NBA lockout and shortened season. A full season next year for the National Basketball Association could see increased sales of the company's 2K NBA video game brand. In a recent article, I also showcased a new game that may provide competition to the company's NBA video game from Majesco Entertainment (NASDAQ:COOL). NBA Baller Beats provides an interactive way for NBA fans to experience a video game where their dribbling and shooting skills will be seen on the game.
Even as a shareholder of Majesco Entertainment, I remain skeptical of how the game will sell in the market. I believe there is room for both NBA Baller Beats and NBA 2K to co-exist and the full season could see huge sales of the 2K game. I also believe that the company will take full advantage of international sales by placing Jeremy Lin on the cover of the 2013 version of the game, or at least the international version.
Last week, several Take Two Interactive games were on the bestseller list for the United States:
15. NBA 2K 12 (XBOX 360) - 15,038 copies
24. Grand Theft Auto IV (XBOX 360) - 10,752 copies
27. MLB 2K 12 (XBOX 360) - 9,727 copies
30. Grand Theft Auto IV (PS3) - 9,310 copies
Take Two Interactive also had several games on the top pre-orders list:
5. Max Payne 3 (XBOX 360) - 139,288
9. Max Payne 3 (PS3) - 112,894
11. Bioshock Infinite (XBOX 360) - 112,752
16. Bioshock Infinite (PS3) - 64,191
Spec Ops: The Line will release on June 26th for Take Two. The game is a new line of shooter military games. Rival Activision commands the military game market with its Call of Duty line and Electronic Arts has entered the market with its Battlefield games. The game could begin a new franchise for Take Two if sales are decent for the Spec Ops game.
XCOM, a new game from Take Two, is also in the pipeline. The first person shooter game will allow gamers to be a FBI agent and take on missions to save a city. XCOM will release for the XBOX 360 and PC tentatively in 2013.
The company also has Grand Theft Auto V in its pipeline and the game is not fully priced into the shares. The Grand Theft Auto series has sold over 120 million copies. The last game in the series, Grand Theft Auto IV, was one of the highest rated video games of all time and sold over 20 million copies. There is no official release date for the game, although it appears it will be released in 2013. The sales of the game are likely priced into next year's expected earnings, but any news on the game, including a release date, will see shares pop.
Digital revenue remains an area of growth for Take Two. The company has increased its revenue base of digital sales from 7% in 2009 to 12% in 2011 and an even larger number expected in 2012. Take Two has remained focused on creating visually stunning games with large storylines to capture hardcore gamers. Social games usually target a different market of gamers. Take Two has begun to use its key franchises to capture digital sales. The Max Payne mobile game mentioned above is one recent example. The Civilization franchise owned by Take Two was recently turned into a playable Facebook social game (CivWorld), which now has 20,000 average monthly users.
The possibility of a Take Two buyout remains large. Larger rivals like Activision (NASDAQ:ATVI) and Electronic Arts (NASDAQ:EA) would love to have huge franchises like Grand Theft Auto, Bioshock, Civilization, Duke Nukem, and Borderlands as part of their gaming portfolios. Japanese video game maker Nexon is said to be shopping for companies to add to its business and Take Two could be on its list. Electronic Arts failed with a takeover of Take Two back in 2008. The acquisition price was around $25 a share and Take Two turned it down because it was in the process of releasing a blockbuster Grand Theft Auto game.
A buyout would likely come in the $25 to $30 range from a number of suitors and one bid could begin a true bidding war for this established franchise. Activist investor Carl Icahn owns 8% of the company's shares and has increased his stake recently. He could be well on his way to exploring a sale of the company to maximize shareholder value.
On May 22nd, Take Two will report earnings for its first quarter, which analysts are expecting a loss of $0.54 per share. Analysts have predicted a loss on the year, currently set at -$0.64. That number may change for the worse with the delay of Bioshock Infinite. In 2013, analysts see this company returning to profit, with current expectations set at $2.81 per share in earnings.
Back in December, I called the company a buy, based on the strong possibility of a buyout. At that time, I had a price target of $16. Even without a buyout, this company is now a strong buy with the recent share price decline. I think shares should be trading closer to twelve times 2013's earnings, which would reach a price target of $33.72. There will be a couple more dips during 2012 depending on how Max Payne 3 sells.
Either way, 2012 is the time to buy shares of this game maker with two clear blockbusters coming in 2013.
Disclosure: I may initiate a long position in Take Two Interactive. I own shares of video game rivals Activision Blizzard (ATVI), Majesco Entertainment (COOL), and THQ (THQI).