Every year, consumers worldwide spend billions of dollars on nutraceuticals – naturally derived products that have biologically therapeutic effects on humans and animals. The nutraceutical industry, positioned somewhere between the food and pharmaceutical sectors, presents an interesting investment opportunity, characterized by low regulatory barriers and rapidly rising consumer demand. While pharmaceutical companies must cope with regulatory challenges and surging research and development costs, nutraceuticals offer a low-cost approach to healthcare that focuses on wellness instead of illness.
The nutraceutical industry offers tremendous long-term growth potential. Changing American perceptions regarding alternative health care appear capable of sustaining the nutracuetical market's long-term growth and have ramifications for the food, pharmaceutical, healthcare, and agricultural markets. At present, more than 40% of Americans are using alternative medical therapies; nutraceuticals (herbals/botanicals) account for a significant percentage of alternative therapies. In fact, the nutraceutical industry is gaining market share from more traditional healthcare sectors. Nutraceutical sales rose to nearly $67 billion last year and are expected to grow two-to-three times faster than the overall food industry.
Changing consumer demographics due to aging baby boomers, a paradigm shift in the approach to personal health, dissatisfaction with traditional healthcare, increasing acceptance of alternative healthcare practices and increased awareness of diet-disease relationships are all factors driving the nutraceutical industry's growth.
A key emerging player in the nutraceutical market, NutraCea (NTRZ.OB) entered the market in 2004 and rapidly gained market acceptance for its products, becoming a verifiable success story within the bulletin-board community. The Company's strength lies in its proprietary technology for stabilizing rice bran and producing rice bran foods and supplements that provide health benefits for humans and animals. In fact, NutraCea is converting million of tons of rice bran into cash; a few years ago, this rice bran would have been sold for next to nothing as animal feed or simply thrown away.
The Company plans to grow by increasing its production capacity, acquiring smaller companies with promising technologies and leveraging its innovative process over a greater number of applications. Despite its recent growth, NutraCea's production capacity can't keep pace with demand and management is considering capacity additions that would enable the Company to produce hundreds of millions of tons of food annually.
Although results in the first six months of 2007 were below market expectations, the Company's future outlook remains bright. The nutraceutical market continues to expand, demand for Nutracea's products remains healthy, the quality of its products is consistently high and the Company is taking the necessary steps to garner market share while refusing to exploit short term supply/demand imbalances.
NTRZ.OB 1-yr chart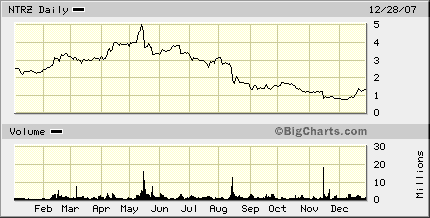 Disclosure: none