As I contemplate the coming year, I still expect very challenging times. I continue to be amazed with the depth and severity of the unraveling financial crisis, but I am even more astonished by how the pundits continue to keep expecting the issues to remain contained. In the beginning, it was just a sub-prime problem, and we saw several originators go belly up in Q1. Then, it was just a mortgage problem, and we saw Countrywide (CFC) get "bailed out". Then, it was just a banking system problem, and we had capital infusions and money-fund rescues. Well, we are about to see what really happens to companies when credit contracts: Those who need it pay a lot for it or don't get it. With that in mind, I spent some time searching for companies outside of the Financial sector that may be particularly vulnerable to tighter credit.
Using StockVal, I sorted through the entire universe of stocks for companies with certain characteristics: Lots of debt, little tangible equity, low return on capital, falling earnings estimates and potentially unsustainably high valuations. I spent some time looking at the list I generated and settled on the following 8 names (click all charts to enlarge):

The names on this list all have negative tangible equity. While this isn't necessarily a problem, as sometimes companies have understated assets or significant inherent value in their intangibles, it can be a problem when one needs to access capital. In other words, it's not a problem unless it's a problem! Additionally, these companies have very high levels of debt relative to their equity. Finally, notice that these companies have relatively low returns on the capital that they do employ as well. So, we have a list of companies that would seem particularly vulnerable to tough times. Defenders of these stocks would point to their "low" PE ratios. I would respond that the estimates in all cases have started to come down, some significantly. This is the basic crux of the problem: The stock prices are very dependent upon earnings. Of course all stocks depend upon earnings, but there are other measures of value, such as price to tangible book value. If a well-capitalized company stumbles temporarily, investors don't necessarily have to worry, as the companies usually can weather the storm. Heavily indebted companies, however, can fall into a spiral, often needing to access equity capital or pay exorbitant prices to roll over their debt. Don't be seduced by the low PE – look at how low some of the bank stocks were trading BEFORE they plunged further.
What follows is a brief review of the eight companies mentioned above. Please note that I am very familiar with Hertz (NYSE:HTZ), which is on my watchlist and that I shorted in October and covered recently, and Penske (NYSE:PAG), about which I wrote earlier this year and have maintained a short position. The other stocks, with which I am less intimately familiar, appear to be problematic to me but may have offsetting factors about which I am unfamiliar. As always, these comments are intended to spur the reader to research further and aren't sell recommendations.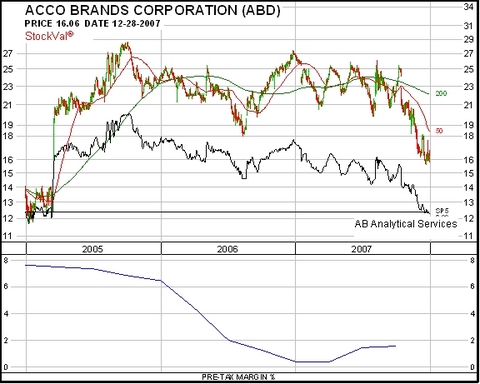 Acco Brands (NYSE:ABD) was spun out in 2005 from Fortune Brands (FO) and merged with General Binding that year. The company sells products into the office supplies market, which doesn't look to be so great judging by the stock price performance of the three major publicly-traded companies in that sector. Not that the stock is not only in a downtrend but now well below the post-merger price in 2005. Insiders punted a big block in a late 2006 offering. Checking Insider Scoop, I see that they have been buying over the past few months.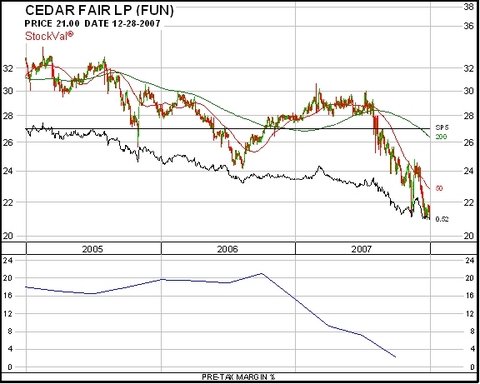 The theme-park business is tough – Six Flags (NYSE:SIX) looks like it may not survive. Cedar Fair (NYSE:FUN) is down, but not nearly as much as it could fall if business doesn't pick up soon. Oh, and that dividend sure doesn't look very secure.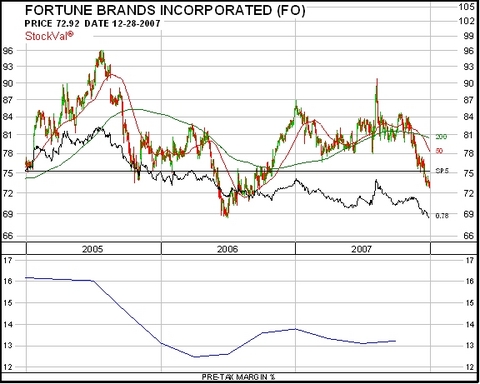 Fortune Brands (FO) stands out on this list for its higher margins. Still, though, the stock has rolled over again. Inventory growth has been in excess of sales growth in every quarter for the past three years. In all fairness, the company has been reducing leverage by applying its huge free cashflow to debt reduction. Still, though, the company seems vulnerable to any reduction in margins.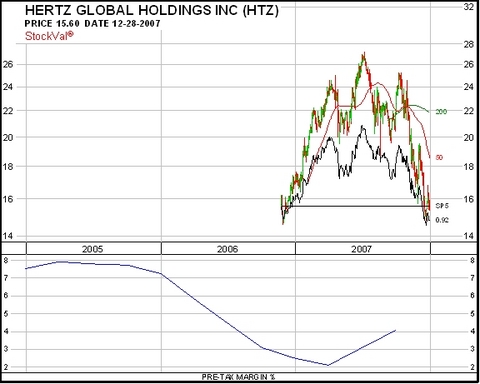 Hertz (HTZ) has the good fortune of participating in two ugly industries – car rentals and equipment rentals. Many people are unaware that 20% of the sales but 50% of the profits come from the equipment business. HTZ has done a round trip, but I expect that there is more to come. It is extremely expensive relative to its car rental and equipment rental peers, as investors have bought off on the margin expansion promises. The private equity guys could surely unload some more stock. Both businesses are very capital intensive. The car rental business faces many challenges. The big guys are trying to move "off-airport", but privately held Enterprise, which is truly the leader in the industry, has fought back by purchasing National/Alamo and will encroach on Hertz's bread and butter business. Further, changes in the purchasing of new vehicles leaves the company exposed like never before to falling residual values. The equipment rental business is highly competitive and faces the problem of having too much equipment that isn't needed and the need to buy different types of equipment that are in demand (for now). I think that this stock could be cut in half from these levels if the economy weakens further.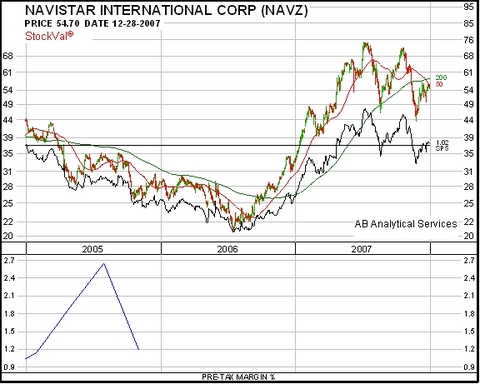 Navistar (NAVZ.PK) has a long history of getting into trouble. They currently are very behind in their SEC filings. The stock has rocketed over the past year over excitement regarding operations in India and MRAP contracts I believe.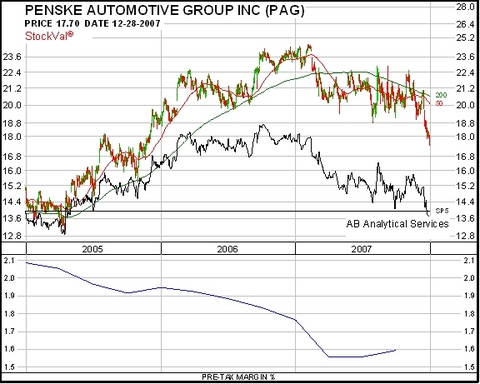 I think that Auto/Truck sales will be absolutely horrible in 2008 after just a bad year in 2007. Penske (PAG) is more expensive than its peers, perhaps due to its higher non-US exposure or to its exclusive marketing agreement for the Smart fortwo that will be delivered soon. This industry is truly a "roll-up", with all of the traditional bad stuff that comes along. I expect to see this stock trade to 13 at a minimum.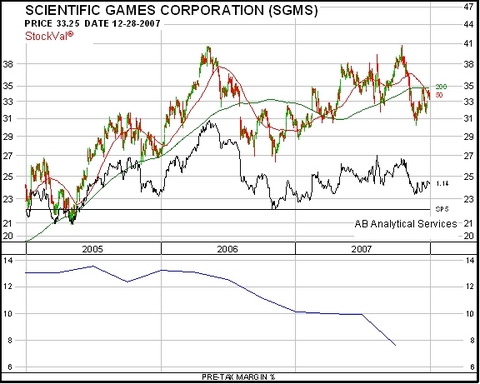 Scientific Games (NASDAQ:SGMS) has a chart that only a short could love – double top, rolling over now. Earnings have been flat for three years now, but analysts are expecting a sharp acceleration. Not surprisingly, this is nothing new – the analysts seem to habitually reduce their forward estimates. The company is involved in lotteries and gambling. So are the investors apparently! Note that inventories and AR have been rising sharply in excess of sales for the past year.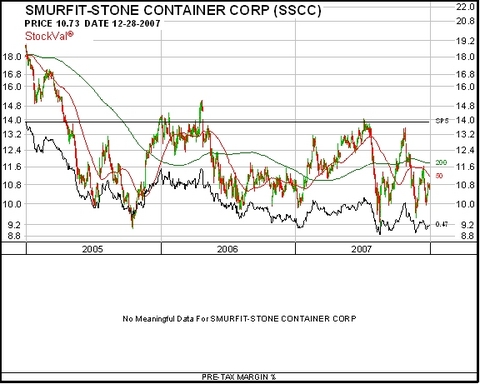 Smurfit-Stone (NYSE:SSCC) is a struggling company that is shedding assets. The maker of corrugated cardboard packaging and other containers has traded between 10 and 25 since 1994. I pity any investor who has ever bought this stock and wonder who the next sucker will be.
Disclosure: Short PAG