Leucadia National (NYSE:LUK) is a very interesting company based out of Utah. This company's diversified operations include manufacturing, real estate development activities, medical product development, health care, winery operations, residual banking and lending activities, oil and gas contract drilling, gaming entertainment, copper mining in Spain, Australian iron mining, timber/lumber, and communication.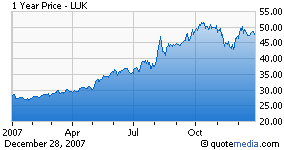 LUK financial documents lay out its acquisition strategy:
In identifying possible acquisitions, the Company tends to seek assets and companies that are out of favor or troubled and, as a result, are selling substantially below the values the Company believes to be present." For example, the company purchased and is rebuilding 'The Hard Rock Biloxi' after is was destroyed in Hurricane Katrina.
In recent years the stock has been up big on international exposure, demand for commodities, and wise investments.
If you need proof of their long-term philosophy, this is from the '06 annual report:
A 15-acre unentitled air rights parcel over the train tracks behind Union Station in Washington,D.C. Entitlement is just beginning. This is one for the grandkids.
How many companies openly discuss investments that won't pay for decades? Its current portfolio of public equity includes:
Capital Southwest Corp (NASDAQ:CSWC)
This close-ended equity fund is actually a venture capital firm in disguise.
It heavily concentrates its investments and provides business service to these companies. From the company site: "We provide patientcapital to exceptional businesses with significant growth potential. As a public company, we have the flexibility to hold investments indefinitely." The companies portfolio is diverse and they have invested in more that 160 companies in the past 50 years.
New buy.
Georesources Inc (NASDAQ:GEOI)
This independent oil and gas driller/explorer produces approximately 1500 barrels a day. After an April merger,GEOI has operations in the Rocky Mountains, the Gulf Coast, and Williston Bay.
New Buy.
International Assets Holding Co (NASDAQ:IAAC)
IAAC operates in five segments: international equities market-making,
international debt capital markets,foreign exchange trading, commodities
trading and asset management.The company offers execution in the
following products:
8,000 unlisted ADRs and ordinary stocks in over 20 countries
Over 500 fixed income instruments in over 30 countries
Precious and base metals offering complete physical, hedging, and investment services
Olympic Steel (NASDAQ:ZEUS) This steel processor/distributer focuses on operations in the Mid West and the East Coast. Olympic helps its customers better manage inventory, supply chain and increases operation efficiency. These customers include transportation and material handling equipment, automobiles,construction and farm machinery, storage tanks, environmental and energy generation equipment, food service and electrical equipment, as well as general and plate fabricators, and steel service centers.
United Western Bancorp Inc (UWBK) A Denver based bank holding company consisting of United Western Bank, Sterling Trust, First Matrix Investments, and Matrix Financial Services.
New buy.
Recent Sells: Accelrys (NASDAQ:ACCL), Alcatel-Lucent (ALU), FEI Company (NASDAQ:FEIC), Symyx Technologies (SMMX), Veeco Instruments (NASDAQ:VECO), Winn-Dixie Stores (NASDAQ:WINN), Imation Corp. (IMN)
The annual reports make for a great read. They are as honest and informative as any Berkshire report.
Disclosure: Author has a long position in LUK