Alcatel-Lucent, S.A. (ALU) is based in France and is therefore exposed to the economic uncertainties of the eurozone. As a result, in its latest full fiscal quarter, there were double-digit percentage declines in sales of wireless and optics equipment, and sales in North America were weak as well. The gross operating margin dropped from more than 34% in the previous quarter to under 30%. The net margin for 2012 is going to be better than the 3.9% for 2011, but analysts doubt whether the company will meet its target of 5%.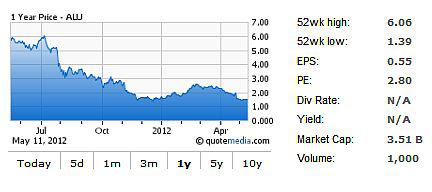 The company sold its global call service centre business to a private equity group for $1.5 billion on a non-profit basis and this provided a welcome injection of cash. The sale as well as the appreciation of the U.S. dollar contributed to the strengthening of the balance sheet because of the increase in equity by over 22% on a year on year basis. Free cash flow generation was negative by over $200 million, though it showed an improvement over the past. Cash and equivalents on hand were just over $4.5 billion against a total debt of just under $6 billion.
The main competition for Alcatel-Lucent comes from Ericsson (NASDAQ:ERIC), Huawei (HWT), Nokia-Siemens network, ZTE Corporation (OTC:ZTCOF) and Cisco Systems (NASDAQ:CSCO). The French company is in a highly competitive position in the developing markets, deriving some 34% of its revenues from these markets as against around 31% in the same quarter of the previous year. In 2012, the company is going to continue to concentrate on North America and China while strengthening its position in Japan and Latin America. One problem that will need to be addressed is the shift in North America from CDMA technology, where Alcatel-Lucent is strong, to LTE technology, where it has no advantage.
Let us now evaluate the company as an investment prospect. Despite operating losses for the past few years, the company continues to be a world leader in the provision of products and services related to telecommunications. It operates in more than 130 countries with total employee strength of more than 80,000.
One of the most innovative and interesting deals that it has struck in recent times is the deal that it has concluded with RPX Corp (NASDAQ:RPXC) a specialist in patents licensing. This will allow Alcatel-Lucent to unlock the value in its huge portfolio of over 29,000 patents, which cover areas ranging from fixed line and mobile communications to consumer electronic devices and semiconductors. RPX has approximately 50 customers, including the likes of Google (NASDAQ:GOOG) and Intel (NASDAQ:INTC). The revenue stream is expected to be considerable and some analysts believe that it could be in excess of $1 billion a year.
Investors who have been concerned at the rate at which Alcatel-Lucent has been burning off cash over the last few years should be comforted by the deal with RPX as well as the sale of the call centre services business. In addition, the company plans to cut costs by around $700 million per year through measures that will include employee lay-offs.
Alcatel-Lucent has a market cap of around $4 billion and an enterprise value of about the same amount. Let us take a quick look at its major European competitors. It has an operating margin of just under 4% as compared to a negative margin for Nokia Siemens Networks and a margin of over 9% for Ericsson. In my opinion, it is managing its transition problems much better than Nokia Siemens Networks and its earnings multiple is much lower than that of Ericsson. I think the markets tend to undervalue Alcatel-Lucent without taking sufficient cognizance of its financial strength. Possibly a factor that concerns them and worries me as well is that the company has never shown a real leadership attitude in its chosen business.
Let me now examine the investment options that you have. You could choose to buy the stock because of the fundamentals such as price-earnings ratio both historical and trailing. It may seem cheap on paper but, given the various factors that I have analyzed, I would not buy just yet without some further tangible evidence of a return to profitability. There are some indications that the company's long-term stock price record is a clear sign of its problems and the concern about its ability to generate earnings and cash flow consistently is genuine and especially when margins from its core CDMA business are set to decline. However, there is no need to rush into selling just as there is no urgency to buy. If you have an existing investment in the stock, I would recommend that you continue to hold until there is more clarity about the future performance. I am reasonably confident that holding on to your existing investment should not give you the sleepless nights.
Disclosure: I have no positions in any stocks mentioned, and no plans to initiate any positions within the next 72 hours.