Yes, Chinese inflation is going higher and the government is trying to slow the economy - but this doesn't mean that all Chinese stocks are in for a tumble.
Two stocks poised to go higher are: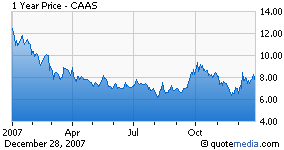 China Automotive Systems Inc. (NASDAQ:CAAS), a power-steering component and systems supplier, signed its first aftermarket supply contract in the U.S. with aftermarket supplier Dorman Products Inc. (formerly R&B ). CAAS has been working with them since May 2006 to develop two power steering models., one of which is to be used as a replacement power steering product for the Volvo S40 sedan.
CAAS is in ongpoing talks with Hubei Wanlong Investment Co. to purchase an additional 36.55 stake in its Parts division. It presently owns a 44.5% stake and would give it controlling interest in the Co. Henglong's $54.5 million in sales was equal to 57% of CAAS sales. A deal could close in the first quarter.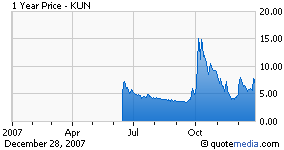 Chinese Shenghuo Pharmaceutical Holdings (KUN) offers a variety of products ranging from pharmaceuticals, nutritional products to cosmetics. The stock has traded as high as 19 in October; it has fallen back the 6- 8 level since and is poised to go much higher.
Why? Two reasons leap to mind. No analyst covers the stock and KUN announced on December 26 that it won a bid to launch its new Chinese Herbal Cosmetics on China Central Television [CCTV].This is the first time a Chinese Herbal Cosmetics company has won commercial airtime in CCTV's most popular time slot. The term of the agreement will run from January 1 2008 to December 31 2008. Segments will be aired 10 times a day on three different channels. By the way, CCTV is not only the national television network of the People's Republic of China, it's the largest.
These two stocks should make for a very happy new year.
Disclosure: none