Real estate companies got crushed in 2007 and market participants punished all real estate companies in an indiscriminate fashion. Opportunity presents itself in situations like this. The company I'm going to discuss is a thinly traded stock with a market cap close to 110 million dollars.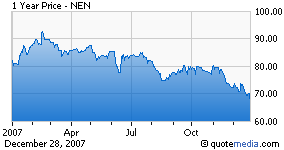 New England Realty Associates (NYSEMKT:NEN) is a company that owns apartment buildings and a small amount of commercial real estate in Boston and outlying cities. The company is run by Harold and Ron Brown, two elderly and very astute real estate investors who have built a fabulous portfolio. Harold owns about 20% of the publicly traded shares. The company is organized as a limited partnership, so the GP owns units as well. The company is also 10% owned by a real estate fund that in October of 2006 recommended that NEN reorganize as a REIT which would, in their opinion, boost the stock price to $170 dollars a share. Pirate Capital had a large stake at one point but liquidated the position because of what I presume were redemption issues in their fund.
Now to the valuation discussion. The company owns 2377 apartment units and 24 available-for-sale condos and has partnership stakes which they carry on their books at a value of $18,193,000. Additionally, they have $14 million in cash, rents receivable, tax escrows etc. They have additional liabilities of $8 million which is comprised of debt on joint ventures and accounts payable. If the apartments are worth $115,000 dollars per unit (a number which is supported by the sale of a 61 unit aparment building they sold according to there most recent 10-Q), then the 2401 units are worth $276,000,00. The mortgage debt is $110,892,802.
Assets:
Apartments $276,000,000
Cash (described above) $14,000,000
Partnership Stake $18,193,000
Total Assets= $308,193,000
Liabilities:
$8,000,000
Mortgage Debt: $110,892,000
Total Liabilities = $118,892,000
$308,193,000-$118,892,000/1,720,000 (shares outstanding) = NAV of $110.
$110 bucks a share is a pretty conservative liquidation number for this company - apartment unit prices are probably $125,000. Feeling some heat from some activist investors a few months ago the company announced a 100,000 share buy back. Due to the low volume in the stock they are limited to how much they can buy back per day, but as far as I can tell are in the market almost everyday buying.
One other strong argument to for this stock is that they have huge equity in their properties and are not nearly as leveraged as other apartment building operators. On top of the steep discount, to NAV the stock yields 4%. At these prices the company has to be careful that someone does not try and steal the company or start a bidding war. $66 bucks a share is a steal and in my opinion that price will be gone as soon as the tax selling season ends.
Disclosure: Author has a long position in NEN