Many passive investors no longer trust that the stock market can provide them with a reasonable rate of return without committing to enormous hidden risk. I was asked on many social occasions whether there are simple strategies that can be employed to improve the odds. It is an interesting task indeed as my expertise is mainly in designing and improving very short term trading models. Nonetheless, I accepted the challenge. Here is the first strategy that is equally applicable to SPY, QQQ, or DIA.
The Double Up Strategy
'Double Up' consists of 3 simple rules:
1. Go long on first trading day between 10th to 13th of a month
2. Go long on first trading day between 26th to 29th of a month
3. Exit position on the 6th trading day at open
In short, going long twice every month and exit all trades after holding 5 trading days.
The Performance
Here is a chart of SPY with the net points gained per share by Double Up during the period.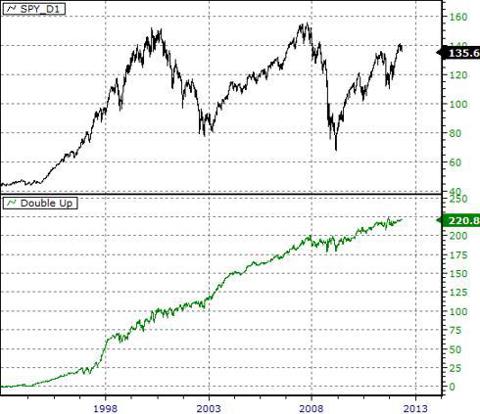 As a raw model, it is very impressive in several aspects:
Capturing majority of gains from the 3 bullish periods
Reducing the impact of draw-down from the 2 bearish periods
Holding a position more than 3 days making it in compliance with the PDT rule
Almost 500% gain vs. buy-and-hold 205%
Similar performance is observed from DIA and QQQ.
Other Thoughts
The entry and exit rules are not optimized, so it is very likely you can squeeze extra profit from the model by improving the rules to take into account situational conditions.
I have a good reason to present Double Up the way it is - not everyone monitors the stock markets every day. Many people do have day jobs that are very demanding. These individuals have to leave their important investment portfolios at the mercy of the markets. What I want to show is that it is possible to do better than that.
Disclosure: I have no positions in any stocks mentioned, and no plans to initiate any positions within the next 72 hours.