Apple (NASDAQ:AAPL) has experienced an extremely volatile 2012 with five percent price swings becoming the modus operandi rather than the exception. I have recommended option strategies on Apple since 2010 with positive results (remember past performance is not indicative of future results). For reference, please view the first and other articles in the series to fully understand the strategy and its strong potential returns. This strategy is oriented towards long term investors with the objective of simultaneously generating income and reducing your effective cost basis in the underlying stock. In essence the investment objective is to capitalize on Apple's volatility by selling out-of-the-money options to generate weekly income without sacrificing long-term returns. I perform a weekly analysis of Apple's stock, options, recent news, and competitive analysis. Even if you have no plans to engage in the options market this is your one-stop primer for the critical Apple developments from the past week.

(Source: Yahoo Finance)
A brief recap of this week in Apple, which was up $5.21 (0.9%):
New iPad U.S. Traffic as Percent of Total iPad Traffic: 11.18% (Up 0.06%)
Apple finished yet another erratic week in which it oscillated between 560 and 574 showing some resiliency at the 560 level. As opposed to last week when Apple declined $32, there was a preponderance of optimistic Apple news this week. The two main stories this week related to Apple reducing its dependency on Google and more details of the new iTV being "confirmed". Apple and Google have historically been close partners but signs of the relationship straining are clearly evident. The most obvious occurred in August 2009 when then Google CEO Eric Schmidt resigned from Apple's board of directors due to conflict of interests. Apple has acquired numerous mapping companies with the most recent being in October 2011 to create an alternative to using Google Maps on iOS devices. Not only is this bad news for Google which is already down over six percent in 2012 but this is a sign of things to come for Apple. Apple is famous for striving to control the entire user experience and this is a signal to shareholders that the company can continue to innovate without Steve Jobs. Yes the founder's fingerprints are on this project but Apple will perpetually be forced to prove that it is not just the work of one genius. I do not believe that the new iOS mapping will be a major selling point for iOS devices but it should assuage investors' concerns about Apple's ability to innovate.
It is important to take all Apple rumors with a grain of salt but when you see the same reports coming from multiple sources it is more likely that they have a base in reality. This is the case with the new iTV as more and more sources are confirming that the breakthrough product does exist deep in 1 Infinite Loop. The release date is a little foggy but even if it slips into 2013 it will likely be years ahead of the competition. This week the CEO of Foxconn made comments indicating that his company is preparing for production of Apple's new television. I do not believe that Apple will acquire a company to produce its new televisions but I expect that Apple will consider all potential opportunities.
Apple has been growing earnings at nearly a 100% rate in the last year has TTM EPS of $41. Even if Apple's growth were to plummet to 50% the EPS of $62 would result in a 2013 PE of 9.2 before adjusting for "cash+". I still stand by my $720 one year price target and I see Apple rebounding to $620 in the upcoming months which would bring the conservative future PE 10.0. Given Apple's extensive growth in Asia I consider this to be a quite unadventurous outlook for Apple that ignores the potential of the new iTV or other future products. I would take advantage of this precipitous decline to either accumulate shares or sell out-of-the-money calls/puts. After a correction it might be prudent to stay on the sidelines and sacrifice short-term income in favor of long-term gains. If you are not currently long Apple you initiate a position at a lower effective cost with a covered call.
Below I present three possible scenarios and the potential returns for the Apple options. The first scenario represents a negative outlook for Apple while the final two scenarios are more reasonable. These scenarios are just projections and there is no guarantee that they will come to fruition. Even if you are optimistic it is important to consider both positive and negative circumstances in order to stress your assumptions. As a general rule, selling calls with higher strike prices has greater potential return but additional risk of loss due to the lower (or lack of) downside protection. For more information on the fundamentals of covered calls, consult Investopedia.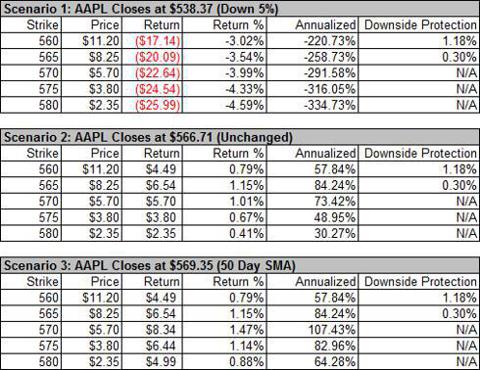 Additionally, if you would like even more information, I have prepared a sensitivity analysis for absolute return and percent returns, respectively. After studying the information above, these two charts make it easy to pick a strike price based on where you believe Apple will close at the end of the week. Estimate where you believe Apple will close and select the strike price with the highest return.

With this information, executing a buy-write on AAPL May 19 (Monthly) 580s is the optimal risk-return strategy. This makes for an excellent trade if you are currently not long Apple; however, if you are a long-term Apple investor I would exercise restraint. If you are uncomfortable with this strategy I suggest a buy-write in the range of 565-585. Even if you are extremely bullish you can still profitably sell covered calls; Apple is volatile enough that you will have opportunities to repurchase on dips. An alternative approach is to sell out-of-the-money 565 puts and collect the premium without having to purchase the stock outright. Note that if the stock declines to the strike price, you are obligated to buy the stock (or closeout the position). You should always consider the risk factors (particularly with naked calls or puts) raised in this article in light of your personal circumstances (including financial and taxation issues) in consultation with your professional financial adviser.