In Part I of this article, the reality of the "patent cliff" now being experienced by Big Pharma was discussed at length, along with other negative trends -- with the implication being that the profitability of the major drug firms was probably not going to be what it had been in recent years.
I then identified 10 of the largest firms, to be reviewed from two perspectives: What are the metrics at this point for these firms, and what are their strategies for dealing with the patent losses and other worrisome trends? The 10 firms are:
I started out following the usual approach to evaluation, reviewing historical and recent metrics, focusing on dividends (Table 1), earnings and returns (Table 2), debt (Table 3), valuation (Table 4), and ratings (Table 5). These results are as follows:
Click to enlarge all images.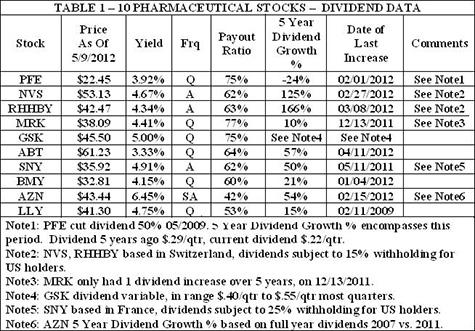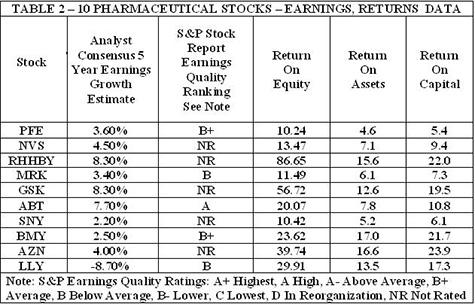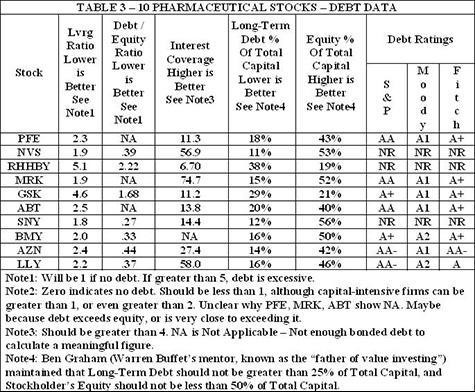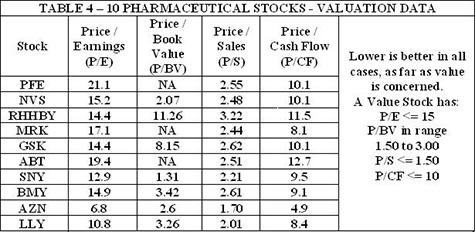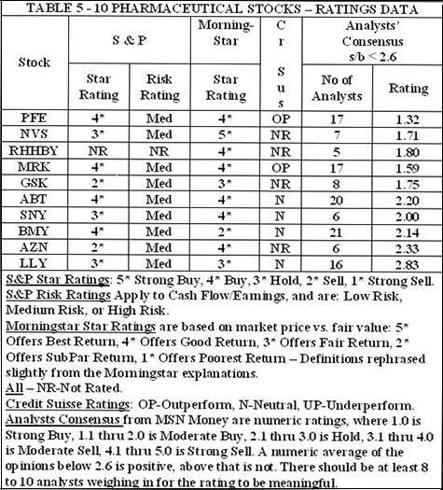 As was emphasized in Part I, the drug companies are at a crossroads, with numerous headwinds indicating that a business model that has been the envy of the business world is changing. For that reason, I believe the historical data, even the most recent, is not as relevant as would normally be the case. The key evaluation factor for each company going forward is: What steps are being taken to adapt to the changes all are facing, and is the strategy the right strategy? Each investor will have to make his or her own determination as to the prospects for success, on a company-by-company basis.
I will offer a brief synopsis for each firm, with a link to at least one article of interest for each firm. Keep in mind that I am not a financial professional, nor am I certified in any way as a financial advisor. I am an independent, individual investor focusing on dividend-paying stocks exclusively. Further, I will admit to a generally pessimistic view of the group. (Does anybody really like the drug companies?) While I am hesitant to make any strong recommendations, I believe I can offer value by making the reader aware of the challenges these firms now face, as documented in Part I. Investors can then evaluate these firms as investments without being lulled into complacency by their prior success and impressive metrics.
Pfizer: The poster child for the patent cliff, Pfizer lost patent protection for Lipitor, the top-selling drug of all time, in November 2011. A May 2, 2012, New York Times article devoted to Pfizer detailed the impact, as Pfizer reported a 19% profit decline for the first quarter of 2012. As the article explains the firm's approach, it seems that Pfizer is doubling down, selling off peripheral but profitable businesses, to focus on development of new drugs. The research budget has been reduced as well, as the research is being refocused on just a few of the most promising areas, such as cancer and Alzheimer's research. Some reorganization and refocusing has been needed, as several acquisitions over the last decade had led to the firm becoming less than optimally organized. Still, at least one observer quoted in the article viewed the strategy as a "high-risk, double-down" approach. Success in the longer run is going to depend on new drug development, just as in the past. The dividend is not in any immediate danger, but later on, if success is elusive, that could change.
Novartis: Morningstar characterizes this firm as a "juggernaut," with an industry-leading number of drugs with blockbuster potential under development. As might be expected from a firm under less pressure than some of its peers, Novartis is not making wholesale changes in its approach. As per an Aug. 4, 2011, Business Week article, the company is staying focused on developing drugs internally, and expanding sales in emerging markets, with cost containment focused so far only on administrative costs. The same article states that, in at least one analyst's opinion, the firm's "stick-it-out" approach may be risky, in that revenue declines from expirations may outweigh emerging market sales gains expected. This firm seems better positioned than most, but I wonder if management is too complacent, since the firm is not facing a crisis, unlike many peers.
Roche Holdings: Roche is uniquely positioned within the pharmaceutical space, as the market leader in biotech and diagnostics. The firm, like many of its peers, has been seeking M&A opportunities, both large and small. Recent acquisitions include Genentech, Ventana Medical, and Anadys, and the CEO stated in a December 2011 interview that Roche was open to deals as big as $3 billion, if targets fit in with Roche's focus on medicines sold alongside diagnostic tools. Roche increased its dividend, paid annually, by 13% last year, and then 4% this year. These are not steps taken by a management fearful of the future. The 2012 ex-dividend date was March 8. I would consider Roche in the next December-February time frame, as the dividend date draws nearer once again. I like the fact that management is aggressively seeking opportunities to complement the firms' strengths.
Merck: Morningstar gives kudos to Merck for acquiring Schering-Plough in 2009, which improved Merck's outlook substantially, and positioned the firm to eventually resume long-term growth. This view seems reinforced by an opinion offered by Sophia Snyder, pharmaceutical analyst at research firm IBISWorld, as taken from a February 2011 article in Daily Finance, with this comment: "Merck is potentially the best positioned among large pharma companies as the patent cliff nears." Merck is not exhibiting complacency, announcing in February 2012 that job cuts and restructuring would be occurring over the next two years. Merck seems to be making the necessary adjustments to deal with the situation. A sign of renewed confidence was evident as Merck announced a dividend increase in December 2011, after a five-year increase drought.
GlaxoSmithKline: According to an April 10, 2012, article on Yahoo Finance, "GSK and Life After the Patent Cliff," this firm has already passed the worst of the patent cliff in an impressive fashion, and has a robust pipeline of new drugs under development. The CEO attributed the firm's advantageous position to a revamped R&D organization initiated around four years ago. The details of the revised R&D approach are further explained in the article. GlaxoSmithKline may be another long-term winner, if the article's characterization proves to be accurate.
Abbott Labs: Of the 10 firms reviewed, Abbott has the least exposure to patent expirations, and with other health care businesses besides branded drugs, is in a very strong position. Management announced last fall that Abbott would split up into two firms, one focusing on drugs, and the other on medical devices, generic medicines, and nutrition. The plan is for both new firms to continue to pay dividends. The break-up is scheduled to be completed by year-end 2012. See this Bloomberg article for more on Abbott. I concur with other articles I have read that, as a shareholder, this plan does not seem necessary. The spun-off drug firm will initially depend on one drug, Humira, for over 40% of revenue. While Humira does not lose patent protection until 2017, reliance on one product for such a high percentage of sales is never a good thing, no matter how safe it seems at this point. Abbott is less attractive to me as a dividend investor with this breakup looming.
Sanofi: This firm is being hit hard by patent expirations in 2011 and 2012, but by 2013, there is a fairly well-defined end to it. The firm is still digesting the acquisition of Genzyme, which occurred in April 2011, and the merger is going smoothly, according to the CEO. See this Medical, Marketing, & Media article from February 2012 for more. Sanofi receives 30% of its revenues from the U.S., 30% from Europe, and the rest from emerging markets, and according to Morningstar, has a robust pipeline of products under development. Sanofi's strategy for navigating past the patent cliff has been to de-emphasize dependence on patented products, instead focusing on predictable growth and extension into emerging markets, as noted in a Healthcare Conference presentation on March 6, 2012, referenced on Seeking Alpha by the link provided. Sanofi appears to have reasonable prospects going forward.
Bristol Myers Squibb: This firm is facing 2012 patent expirations on two of its top three sellers, the blood thinner Plavix, and the high blood pressure medication Avapro. Bristol is pursuing an acquisition strategy, along with cost containment, to get through a difficult period. A Barron's article details the strategy behind the acquisition of Inhibitex, finalized in February of this year. The company has resorted to salary freezes, layoffs, and facilities consolidations, beginning as early as 2008, to get prepared for the patent expirations. Earlier acquisitions of biotechnology firms, such as Kosan Biosciences in 2008, were another part of the strategy to cope with the expirations. A recent Standard & Poor's analyst report noted the firm's efforts, but stated that the steps taken won't be enough to avoid a drop in revenue, and further cost containment steps are likely.
AstraZeneca: The firm announced in February 2012 that over 10% of its worldwide jobs will be eliminated, in a cost-cutting move prompted by revenue declines from patent expirations. (See this article from Matthew Arnold & Baldwin LLP for details.) The IBISWorld analyst mentioned in the Daily Finance article referenced in the Merck synopsis above had this to say about AstraZeneca: "AstraZeneca's situation could hardly be worse: Medicines that generated 62% of its 2009 revenue will face competition from lower-priced copies by 2014." AstraZeneca is not a stock I could recommend, based on what I have learned from these and other articles.
Eli Lilly: The analyst quoted in the IBISWorld article above also identified Eli Lilly as one of the worst-positioned companies, regarding the patent cliff. Morningstar appears to confirm that assessment, noting that the firm faces one of the steepest patent cliffs of all the drug companies, with more than 40% of sales to encounter generic competition in the 2011-13 time frame. At this point, the company's best hope is an Alzheimer's drug in clinical trials, as described in this March 1, 2012, MedCity News article. The company does have other new drugs under development, with an emphasis on biologics, but it looks like its going to get worse for this firm before it gets better, barring a miracle breakthrough.
Final Conclusions
As a dividend investor, I have owned drug stocks off and on through the years, but have sold out of all but a couple that I still own -- Pfizer and Sanofi. I believe these huge firms are going to be under pressure for years to come, and the situation as I see it might result in minimal dividend growth, with payouts static, and cuts are certainly possible in some cases. Still, as noted, they aren't going away, and a couple may end up as big winners. It is interesting to note that both Standard & Poor's and Morningstar rate a number of the drug companies positively, so certainly the analysts behind the ratings don't believe that all is lost. I would recommend owning at most only three or four of the most promising candidates, and then plan to stay on top of developments as they unfold, being ready to sell if the outlook changes for the worse for a given firm.
Based on the cursory analysis carried out in preparing this article, the best candidates would seem to be Novartis, Roche, Merck, GlaxoSmithKline, and Sanofi. Pfizer and Abbott are behind these five, Pfizer because the strategy going forward seems to me to be higher-risk, and Abbott because I don't care for the separation plan. Lastly, Bristol Myers Squibb, AstraZeneca, and Eli Lilly all appear to be in for the worst of it, as the patent cliff extends onward through 2013 and companies under stress are not historically the most reliable dividend payers.
Disclosure: I am long PFE, SNY. I also have sold a covered call on PFE, and will let it go if it expires in the money. With the annual dividend secured, I plan to sell SNY. I am considering starting a position in NVS, OTCQX:RHHBY, MRK, or GSK if a buy opportunity comes along.