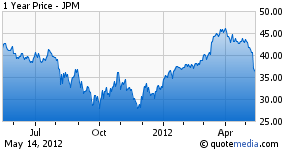 JPMorgan's (NYSE:JPM) self inflicted loss raises tough questions for equity market investors struggling to determine how much of Q1's rally in the S&P 500 was tied to JPMorgan distorting credit worthiness with its "non hedge" hedge. After all, credit markets and equity markets have become increasingly correlated and historically, credit markets lead, not lag.
Which suggests the London Whale created a false sense of security by supplying endless protection via selling the CDX.NA.IG.9 (and its tranches) last quarter. Equity participants watching credit market spreads narrow ended up misinterpreting the action as a signal of improving corporate health - instead of what it really was - the machinations of a rigged market.
Equities rose markedly in Q1 as JPMorgan's bet increasingly frustrated hedgies looking at the growing dislocation. Eventually, this frustration prompted them to reach out to the regulator of world opinion - namely Bloomberg and other news outlets.
Once the trade hit the press, hedge funds pressed bets against JPMorgan, buying protection in droves and ultimately creating the $2 billion loss announced by Dimon. Not surprisingly, the market's peak came the week before Bloomberg's first reported on the subject on April 9th. It wouldn't be surprising if vetting the story through industry contacts prior to the story breaking is what derailed the market's April 2nd breakout.
But that history only takes us so far when we're wrestling with how to position ourselves in the market tomorrow. After all, summer is the seasonally toughest time to be long equity markets. It's a time to be looking for clouds on the horizon instead of basking in the sun.
Did JPMorgan exit the trade before Mr. Dimon's mea culpa?
It wouldn't shock market veterans if the absence of activity in April in the CDX.NA.IG.9 -which coincided with the market slide - meant regulators and risk officers were making the London office get out of its trade. And, if JPMorgan was able to unwind and even take the other side, it's unlikely it will advertise the fact until the speculative frenzy - dare we call it a "sprenzy" - goes the other way.
If it does, those late to pile on against the "whale" will find themselves scrambling. After all, markets always over-reach. And, when they do, the equity market (NYSEARCA:SPY), (NYSEARCA:DIA), (NASDAQ:QQQ) - which has already retreated about 5% from its April peak - will rally.
But, there's a lot of "if" and "when" to consider in that scenario. And, a lot of market pain in the meantime - particularly for margin investors.
One way to consider playing the unfolding drama is to buy Treasury Inflation Protected securities, specifically the ETF (NYSEARCA:TIP). The TIP offers robust summer seasonality, finishing July higher than it began May in seven of the eight years it has existed.
Tips become increasingly attractive if CDS spreads widen, counterparty risk drives interbank funding costs higher or regulatory scrutiny drives industry-wide position unwinding at banks. Such dislocations boost the likelihood of additional inflationary quantitative easing.
Regardless of how the JPMorgan debacle plays out, TIPs should prove a fine place to hide. If the event fades, the economic tilt remains toward inflation. If the event intensifies, we'll see more inflationary policy. Either way, market turbulence will move a fair share of risk averse investors to Treasuries, including TIPs.
Disclosure: I have no positions in any stocks mentioned, but may initiate a long position in TIP over the next 72 hours.