Shares of EXCO Resources Inc (NYSE:XCO) have rallied nearly 30% over the past month. However, there are good reasons for the rally and I believe investors should stick with XCO. I first outlined my bullish stance on XCO in this piece published April 28, 2012.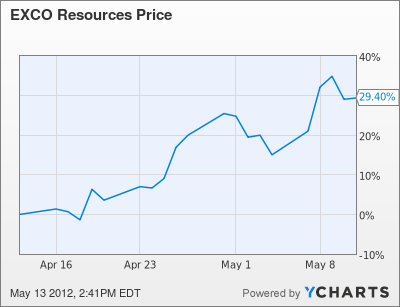 Natural Gas Rally
Natural gas prices are up nearly 20% over the past month. This is a major positive for XCO. If gas prices continue to rise, I expect XCO to rally.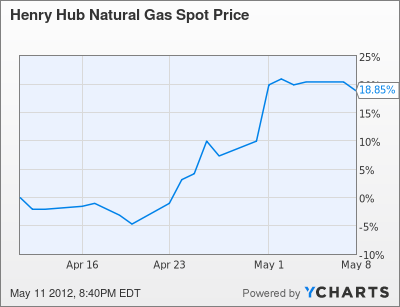 Analyst Upgrade
KeyBanc Analyst Jack N. Aydin upgraded the stock to a buy with a $10 price target. In his note Aydin said:
XCO has a number of potential transactions that are on the cusp of being consummated, which could provide significant catalysts for shares if executed to plan. XCO is negotiating the sale of TGGT, its midstream asset, which it owns 50/50 with BG Group, and is also exploring a possible joint venture on the Company's conventional gas assets with a number of interested parties. A joint venture would not only provide a liquidity event but could also be a vehicle for further opportunistic acquisitions of conventional gas assets that are depressed in today's natural gas pricing environment.
The potential asset sales serve as a major catalyst that could drive XCO higher over the short-term.
More Oil
During the Q1 conference call, CEO Doug Miller spoke about increasing XCO's exposure to oil:
This has been a gas company. It was set up to be a gas company. We're still looking at gas transactions, but we do have a small oil property that has been successful. We've been running 1 rig over there and we are, now, in evaluation on how to get into it on both the Wolfcamp and the Cline. There has been some recent results in our neighborhood over there. We are drilling a vertical test, doing some coring as we speak. With the idea that if we can get it figured out, we would bring another rig in there later on this year.
The potential increase in XCO's oil business could come as a unexpected surprise for the stock. Other companies such as SandRidge Energy (NYSE:SD) have shown that gas companies can have success in the oil business. However, it would be premature to say XCO will transform into an oil play anytime soon.
Conclusion
Momentum continues to build for XCO.
Disclosure: I have no positions in any stocks mentioned, and no plans to initiate any positions within the next 72 hours.