Many investors appreciate large-cap (over a $10 billion valuation) pharmaceutical companies for the potential to produce not only present income in the form of above-average dividends, but also long-term growth powered by medical breakthroughs. Several of the large-cap drug makers also have records of growing their business and dividend payouts over the long term.
Another reason some investors allocate into large-cap pharma is that the drug making industry has acted resiliently during prior economic downturns and recessions. These companies are often considered defensive stocks. Many also consider the industry to be a strong long-term value, with several of these companies paying substantial present dividends, and a business profile that is likely to benefit from emerging market growth, as well as the continued development of medical advancements. These characteristics make many investors label this industry as recession proof (or at least recession resistant).
Below I have provided recent performance rates for six large-cap drug manufacturers that trade within on U.S. exchanges and that have at least a 4% yield: AstraZeneca (NYSE:AZN), Eli Lilly (NYSE:LLY), GlaxoSmithKline (NYSE:GSK), Merck (NYSE:MRK), Novartis (NYSE:NVS) and Sanofi (NYSE:SNY). I have provided their present yield, as well as their one-month, 2012-to-date and one-year equity performance rates.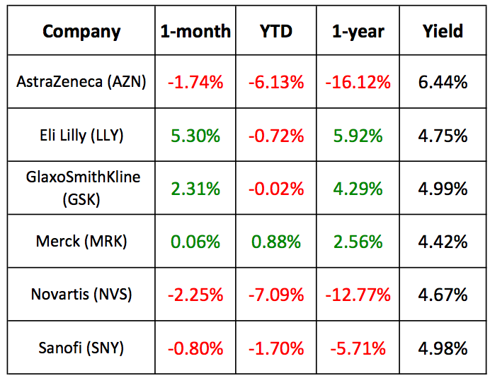 All of these large-cap pharmaceutical makers have underperformed the broader market so far in 2012. These companies average a 2.46% decline, year-to-date, compared to an 8% increase by the S&P 500. Compared to their 2012 starting prices, only MRK has not depreciated, and it is essentially flat since recognizing some strong appreciation in the second half of 2011. See a recent performance chart for MRK:
(Click to enlarge)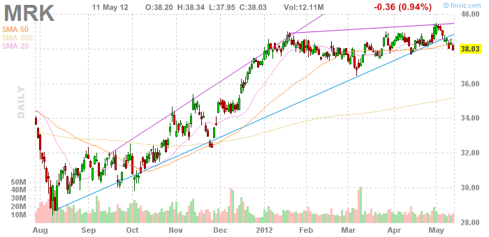 The best performing listed pharma over the last year is AZN, down slightly over 16%. The firm has sought out acquisitions to offset patent losses, including the forthcoming expirations of Seroquel and Arimidex. See a recent performance chart for AZN:
(Click to enlarge)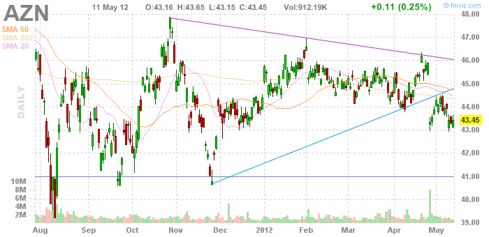 The best performing listed equity over the last year was LLY, which also has issues with recent and looming patent expirations. Eli Lilly appreciated 5.92% from a year ago, but also appreciated 5.3% in the last month alone. See a recent performance chart for LLY:
(Click to enlarge)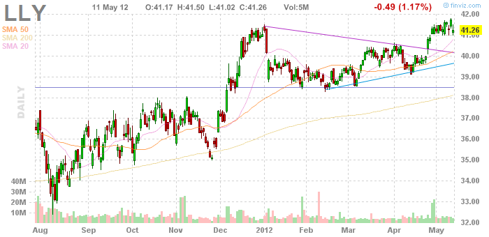 At least some of this group's underperformance appears related to increased European risk. Additionally, the U.S. Supreme Court is expected to release its opinion as to the constitutionality of President Obama's healthcare mandate and substantive regulations within the next few months, and the decision has the potential to have a volatile effect on the healthcare sector, including these large-cap pharmaceutical makers.
Disclosure: This article should not be construed as personalized investment advice as it does not take into account your specific situation or objectives.
Disclosure: I have no positions in any stocks mentioned, and no plans to initiate any positions within the next 72 hours.