Vonage Settlement
Vonage (NYSE:VG) continued its lawsuit settlement streak by reaching an agreement with Nortel (NT) that will see a license exchange but no cash involved.
The dispute, which involved 411 and 911-related services, came after Nortel recently filed a lawsuit against Vonage for patent infringement.
Last year, Vonage settled lawsuits with AT&T (NYSE:T), Sprint-Nextel (NYSE:S) and Verizon (NYSE:VZ).
For more, check out electronista and The Register.
CEO Time Management
The Wall St. Journal asked a number of CEOs how they will try to manage their time better in 2008.
In an answer we can all probably appreciate, Nortel's Mike Zafirovski said he hopes to make e-mail less of a distraction. "I know I get too many emails, and probably issue too many as well," he said, adding he also wants to start and finish internal meetings on time this year.
Speaking of how Mike Z., what do you think he has to do better in 2008 - other than managing his time?
Holiday Stock Blues
Not that I want to be a Grinch during the holiday season, but it should be noted that Nortel shares hit a 52-week low of $15.17 last week - more 50% below the 52-week high of $31.79.
When taking the 10:1 stock consolidation into consideration, the stock is trading at $1.51, which is really not that far away from penny-stock status. Yikes.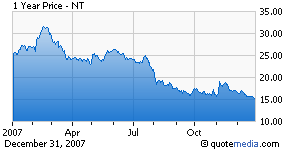 Here's what Douglas A. McIntyre had to say about Nortel on Blogging Stocks:
Supplying infrastructure to the world's big telecom and cable companies used to look like a sexy business. But, Nortel shares are off to $15.20 from a 52-week high of $31.79. Rival Alcatel-Lucent (ALU) is doing no better. The build-out of systems like 3G and WiMax is going slower than planned and mergers of big telecom companies have taken some customers out of the picture. The market may begin to improve, but companies with more advanced tech, like Cisco Systems (NASDAQ:CSCO), are likely to benefit.
Here's what analysts think of Nortel shares: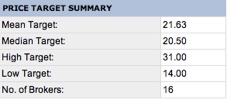 It would be interesting to know who's got a $31 target and how that's being justified given it's about 50% above the mean target.