We have the market in a confirmed uptrend and we have several leading names consolidating: Research in Motion (RIMM), Amazon (NASDAQ:AMZN), Apple (NASDAQ:AAPL), Intuitive Surgical (NASDAQ:ISRG), Google (NASDAQ:GOOG) and Baidu (NASDAQ:BIDU) among a smattering of others.
I have decided to put RIMM and AMZN to work. In the new year there is a decent chance that these two names will trade to new highs. If they do print new highs, they will undoubtedly be joined by some of the others. At that point I will expand my positions in each of RIMM and AMZN and enter new positions in the leaders above. I will let the market dictate which equities are best if we rally higher. Of course I am putting stop losses on each position.
Here's my case for each: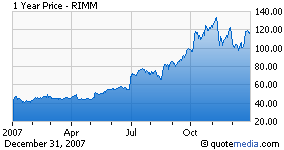 I have become more bullish on Research in Motion over the past week. RIMM blew past Wall Street estimates with its earning report detailing 100% EPS growth (see conference call transcript). This from a company with essentially no debt and a return on equity of 36%. It is the tight low volume handle on an O'Neil double bottom formation that has made me more aggressive. This is a recipe for a successful fade. If RIMM breaks to new highs I will continue buying until I have a full position.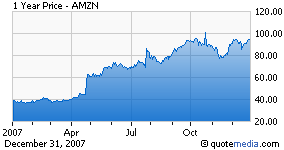 Amazon.com is one of the internet's most powerful brands. They have solid triple digit EPS growth and a return on equity of 76%! A debt to equity ratio of 1.673 is high, but allowable with such solid ROE. Technically, the shares have traded in a solid O'Neil cup with handle formation, now finishing off the end of a handle on light volume. A second high probability fade which I will add to on a break to new highs.
Disclosure: Author is long ISRG