If you've been living in a cave for the past few years, let me bring you up to speed: Facebook (NASDAQ:FB) is going public this week. The amount of excitement surrounding the IPO has been the most I can remember since Google (NASDAQ:GOOG) went public way back in 2004. A two-word phrase getting thrown around a lot last week in regard to the company was "highly oversubscribed." Which basically means everybody wants it, no matter what the price. I can understand the hype, as retail investors love IPOs of companies with familiar products that they use often. No one disputes that Facebook is one of the best-known brands in the world.
So before I go any further, here are the basics of this massive offering as it stands today: Facebook is offering 337.4 million shares at between $28 and $35 per share. It hopes to raise $11 billion, and this gives it a market cap of $67.4 billion. There's a huge list of underwriters and co-managers; some of the largest are Morgan Stanley (NYSE:MS), JPMorgan (NYSE:JPM), Goldman Sachs (NYSE:GS), Bank of America Merrill Lynch (NYSE:BAC), Citigroup (NYSE:C), Credit Suisse (NYSE:CS), Deutsche Bank Securities (NYSE:DB), and Wells Fargo Securities (WFM). The final prospectus has yet to be declared effective by the SEC, and therefore all this information is still subject to change before May 18 (the date Facebook plans to begin trading on the public markets).
This being the most sought after and talked about IPO in years, instead of boring readers with Facebook's numbers, which have been thrust down investors' throats for weeks now, I thought I would write about how I would not recommend holding Facebook after the IPO. I've worked in the IPO market for almost 15 years, so of course I know that Facebook should increase its price range this week -- probably to the mid-$40s, and on its first day of trading it may even open in the mid-$60s. Then, over the next few months, I can visualize the stock making a rapid ascent to over $100 per share. That is the point at which I get rid of the stock.
Sure, according to its S1, Facebook made $972 million in net income from $4 billion in total revenue. I agree that Facebook would be fairly valued if it prices at $40 or even $45 per share, but it should be downhill from there. It will take a large change in the direction of the business for Facebook to convince me it can achieve a growth rate that would drive a tech company's stock and P/E ratio higher. Its growth has already begun to slow, and that slowdown will probably continue for the foreseeable future. In my opinion, there are three main things Facebook could do to drive growth in revenue and income in the future: monetize mobile users, increase ad-targeting effectiveness, and introduce a subscription option.
First, Facebook must figure out how to monetize mobile users. Facebook touched on this subject in its latest amendment to its S1, but really only to say it had to monetize mobile users or its revenue could be affected. I agree. I've heard a lot of talk about virtually all computing being done on mobile devices in the very near future. The personal computer may soon only be used by companies for business or computer programming, and if most people begin accessing Facebook solely through their mobile devices, then as it is now the company does not have a business.
Second, Facebook has not been able to target ads to users as effectively as Google does. Google has mastered this art by using its advanced search technology to accurately determine what a user is interested in. Facebook has always been behind Google in click-through ratios and amount per click that advertisers are willing to pay. Facebook has tried many things to better target users, like when it asks if this ad is relevant to you, but it will always be behind Google in this area. In all fairness, Google had a big head start and has been tracking Internet users for five years before Facebook was even a gleam in Mark Zuckerberg's eye. As a matter of fact, there is Google Adsense on this page and it is tracking you right now, while Facebook will only know you've read this if you click the "like" button below the article.
Which brings me to the third issue with Facebook's future growth, because clicking the "like" button is all a user has to do to be considered a daily or monthly user. Because I stay logged into Facebook all the time, when I "like" a page, I never visit nor see any ads on Facebook. So that raises the following question: How many of its 900 million monthly active users are actually surfing the website? This confusion in active users, any drop in ad revenue, and the delays in fully monetizing its mobile users could all be supplemented with some sort of optional subscription plan. I made sure to say "optional" because there was chatter about switching all of Facebook to a subscription service, which was promptly shot down by users and industry professionals alike. But a model similar to LinkedIn's business plan -- where users could pay a fee and perhaps send unlimited friend requests, receive discounts on virtual goods, have additional customization options on their page, or other similar services -- could increase revenue and help grow Facebook's earnings at a steady rate.
Now that Facebook's growth is slowing, it is also going to have to make changes in its business to keep its existing users. The downfall of Myspace happened very quickly and with little warning. One day it was on top of the world and getting more page views than Google, and two years later it was struggling to stay alive. It was sold a couple years ago for just $35 million, a small fraction of the $580 million News Corp. (NASDAQ:NWS) purchased it for in 2005. The chart below is from Google Trends, showing Myspace's popularity on Google Search over the past few years.
Click to enlarge all images.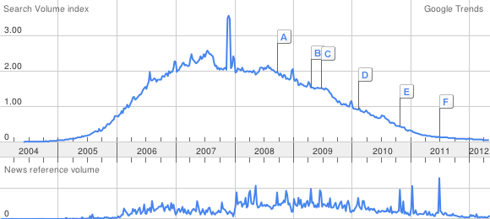 As you can see, the drop-off started in mid-2007 at its peak of popularity and it never managed to recover. In a social network people sign up because their friends are on it; if their friends leave the website, they will too. The domino effect that crushed Myspace could easily happen with any social network. For comparison, here is a chart of Facebook over the same time period: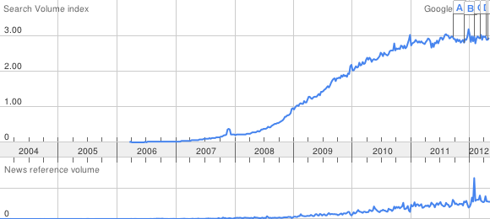 Now social networking is so popular and the features are so easy to implement that every site has at least some social networking capabilities. There is even a company called Ning, which used to be a social network, that now offers to turn an individual's website into a full-featured social network for a monthly fee. It seems social networks have now become a commodity. From the charts above it seems very clear that Facebook was a contributing factor to what happened with Myspace. Just as Facebook destroyed Myspace, social networks on already popular sites may be the downfall of Facebook.
I recommend doing whatever you can to participate in the Facebook IPO, but when there are several quarters of slowing growth and the stock's rise looks like it's stalling, then it's time to "unfriend" Facebook.
Disclosure: I have no positions in any stocks mentioned, but may initiate a long position in FB over the next 72 hours.