There are times when the U.S. dollar tells investors all they need to know… at least in the short term. For example, the fact that the PowerShares DB US$ Dollar Bullish Fund (NYSEARCA:UUP) gained ground for 9 consecutive days is an expression of serious doubt in Europe's finances as well as its leadership. Indeed, the almighty buck still reigns supreme during gargatuan uncertainty.
In the chart below, UUP's black bars in May graphically depict the recent aversion to risk. And yet, the greenback's appeal is not entirely new. The price of this ETF has effectively stayed above a long-term trendline for 6 months.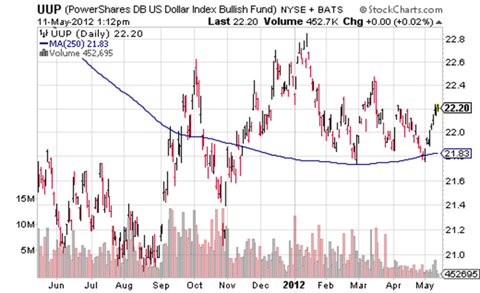 So what might this mean for a forward-thinking ETF investor? Essentially, countries with lower deficits as a percentage of their respective economic output should become attractive assets in the 2nd half of 2012.
Perhaps ironically, one of the worst offenders in this arena is the United States, with a 2012 estimate of -9.3%. That said, countries like the U.S. and Japan have been able to run monstrous deficits without immediate consequences during wars and/or recessions; smaller countries in Europe (e.g., Portugal, Ireland, Greece, etc.) haven't had that luxury. It follows that lower deficit countries (e.g., Germany, Finland, Sweden, etc.) will become more attractive investments… as soon as the world conjures up a way to bail out Europe and its financial institutions.
Towards the very end of 2011, the European Central Bank (ECB) was extremely successful in lessening concerns about the eurozone crisis. They served up refinancing loans with 1% over 3 years, boosting cash flow and increasing credit availability.
However, as I pointed out in previous posts, interbank lending in Europe flatlined in mid-March after 10 previous weeks of delcining 3-month LIBOR rates (1/1-3/15). In effect, you can see the positive impact of the ECB intervention on a low deficit country fund like iShares MSCI Germany (NYSEARCA:EWG); it rallied 20% at roughly 2x the rate of the U.S. markets.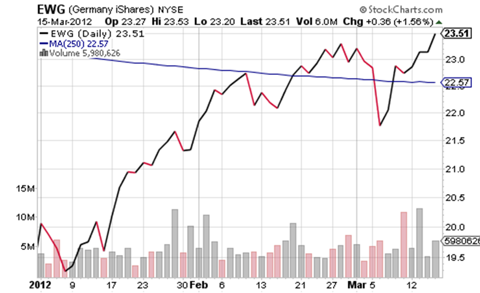 So here is what the forward-thinking investor may wish to consider. The anti-austerity shift abroad all but assures greater monetary easing by the 2nd half of 2012. The European Central Bank (ECB) will have little choice but to "print money/expand its balance sheet/lend/bail out." And once it happens, the lower deficit country ETFs should enjoy a dramatic pop.
The three that deserve the most consideration? iShares MSCI Germany (EWG), iShares MSCI Sweden (NYSEARCA:EWD) and iShares MSCI Finland (BATS:EFNL).
I wouldn't invest in these today, but I am keeping them on my watch list. If the ECB acts (which it will) and if the markets then respond favorably with respective prices climbing above long-term trendlines (which they should), the gains in these funds could be superb.
Granted, a much larger theoretical question is… how long would the infusions satisfy market participants? That's not something that anyone is able to gauge.
Therefore, in my targeted asset allocation approach, I prefer assets with wide spreads over comparable treasury bonds. They include ETFs that represent dividend stocks, high yield corporates , investment grade corporates, intermediate munis, preferred shares and pipeline MLPs.
Disclosure: Gary Gordon, MS, CFP is the president of Pacific Park Financial, Inc., a Registered Investment Adviser with the SEC. Gary Gordon, Pacific Park Financial, Inc, and/or its clients may hold positions in the ETFs, mutual funds, and/or any investment asset mentioned above. The commentary does not constitute individualized investment advice. The opinions offered herein are not personalized recommendations to buy, sell or hold securities. At times, issuers of exchange-traded products compensate Pacific Park Financial, Inc. or its subsidiaries for advertising at the ETF Expert web site. ETF Expert content is created independently of any advertising relationships.