I have written about the killer, super-bug staph infection MRSA, but new, proposed legislation in California is bound to make it a headline again -- and a big one!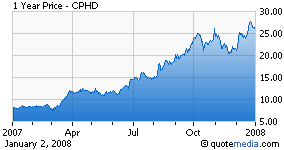 The proposed law would give California, perhaps, the toughest MRSA reporting requirements -- it would require all high-risk patients be screened, such as people in hospital ICUs. California would also add MRSA to the list of communicable diseases that must be reported to state authorities. This would make California the fifth, and by far the most important, state to adopt these kinds of regulations.
Is this an opportunity for investors?
There are few plays, and the closest to being a pure play in 2008 is a small diagnostics company, Cepheid (NASDAQ:CPHD). They have a new, state of the art test that is much faster than existing tests, for a variety of reasons, but the Department of Veterans Affairs is giving between 90% and 95% of its business to CPHD.
The company uses a razor and blades business model -- they sell hardware that can run any CPHD test, MRSA being one of the first and easily the most popular -- and make their real profits on test cartridges. The stock quadrupled from its low in 2007, in part due to new state and Medicare regs and the outbreak of community MRSA that has killed several non-patients. A CDC report saying at least 17,000 people a year die from MRSA also helped push the stock. I own shares in the company.
Another play is Swiss company Basilea (BSLN on the Zurich exchange). It is developing something called Ceftobiprole in Phase III trials for hospital acquired pneumonia but it also works on MRSA. The company believes it will be superior to the current gold standard for treatment, vancomycin, and in this world, all new antibiotics are welcome due to the inevitable problem with drug resistant strains. I do not own any Basilea stock.
Check out all the legislative and industry activity in this area. I believe all -- that's right all -- patients will be screened for MRSA in the next 3-5 years, prompted in part by interest in the subject by tort attorneys. See if it belongs in your portfolio in some fashion.
Disclosure: Author holds shares in CPHD.