A name you might not recognize is NextEra Energy (NYSE:NEE) -- the newly renamed FPL Group is the holding company for Florida Power and Light, which serves most of the Florida peninsula. Recently the stock has been on a very upward trajectory, as this Barchart provided hourly trading chart show over the past month: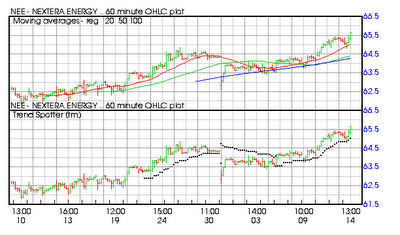 Recently the stock has been outpacing the market, and while the market as measured by the Value Line Index has been up 10% in the past 6 months NEE is up over 13% for the same period and still climbing: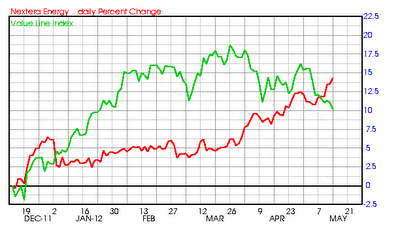 NextEra Energy, Inc., through its subsidiaries, engages in the generation, transmission, distribution, and sale of electric energy in the United States and Canada. The company is involved in the generation of renewable energy from wind and solar projects. It also generates electricity through natural gas, nuclear, oil and coal, and hydro power plants. The company serves approximately 8.9 million people through approximately 4.6 million customer accounts in the east and lower west coasts of Florida. In addition, it leases wholesale fiber-optic network capacity and dark fiber to telephone, wireless, Internet, and other telecommunications companies. As of December 31, 2011, NextEra Energy, Inc. had approximately 41,000 mega watts of generating capacity. The company was formerly known as FPL Group, Inc. and changed its name to NextEra Energy, Inc. in May 2010. NextEra Energy, Inc. was founded in 1984 and is headquartered in Juno Beach, Florida. (Yahoo Finance profile)
Barchart technical indicators:
100% Barchart technical buy signal
Trend spotter buy signal
Above its 20, 50 and 100 day moving averages
9 new highs and up 5.77% in the last month
Relative Strength Index 75.91%
Barchart computes a technical support level at 64.53
Recently traded at 65.54 with a 50 day moving average of 62.20
Fundamental factors:
Florida Power and Light, now under its new name of NextEra, has always been a popular income stock with Wall Street, where 18 brokerage firms have assigned 23 analysts to follow the company's numbers
Analysts predict revenue will increase by 1.30% this year and another 3.69% next year
Earnings are estimated to increase by 3.20% this year and additional 9.30% next year and to continue at an annual rate of 5.38% for the next 5 years
These consensus numbers result in 3 strong buy, 9 buy, 10 hold, 1 under perform and no sell recommendations to their clients
Analysts predict that if all the numbers are met investors should see an annual total rate of return in the neighborhood of 8% - 10% over the next 5 tears
The P/E ratio of 14.66 is slightly lower than the market P/E of 15.30
The dividend rate of 3.69% is about 50% of estimated earnings compared to the market rate of 2.30% and is expected to be increased by the Board of Directors after the new rate increase is approved
As with most utilities the company has an A financial strength rating
The service area in the Florida peninsula is a solid one with lots of wealthy and retired consumers that are not likely to default on billings
General investor interest:
On Motley Fool over 1,100 readers have given an opinion on the stock and are mostly positive on it as an investment
97% of the readers voting think the stock will beat the market
97% of the more experiences and savvy all starts agree
Although Jim Cramer has shorted this stock RBC Capital, Jefferies, Oppenheimer, and Credit Suiss all are positive on the issue
The market is your best guide to value and both NextEra and Southern Co (NYSE:SO) are up 12% for the year while Dominion Resources (NYSE:D) is up 7% and Duke Energy (NYSE:DUK) is up 11%: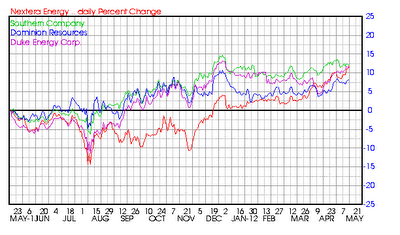 Summary: No one gets rich or poor owning a quality utility. NextEra is a solid income stock and should continue to be one. For those overly cautious, always follow the 14 day turtle channel and explore increasing your income by selling conservatively priced calls.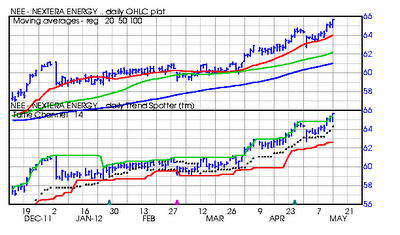 Disclosure: I have no positions in any stocks mentioned, and no plans to initiate any positions within the next 72 hours.